Launched in 2018, THCaffiliates.com is dedicated to helping digital marketers, website publishers and cannabis businesses stay connected.
Through our reporting on cannabis-related business services and affiliate programs, we keep our readers up-to-date with the latest industry news, and continuously update our pages to ensure you always have the most accurate information.
Note: This website does not sell or promote the consumption of marijuana. It is a resource for legal cannabis businesses and website publishers.
About the Author: Toni Allen of THC Affilaites.com
Since 2002, I've been publishing content, making a living from websites, and supported my family through passive income generated by my websites in various niches.
When recreational cannabis and CBD became fully legal in Canada and the United States respectively, I saw the potential for generating income through this new industry. I quickly built a few websites in the cannabis niche, and monetized them with affiliate programs.
Running cannabis-related websites has taught me a lot about the unique aspects of advertising and marketing in the industry.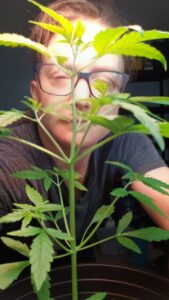 So, starting a website dedicated to cannabis marketing seemed like a great idea, and I'm enjoying making connections in this niche.
In addition, my Dad helps out with product testing. He's a US vet that has been using medical marijuana and CBD products for over and decade and happy to give reviews. You can find the address to send CBD products for reviews on our contact page.
My previous projects include HTML.com, Digital.com, Commodity.com and many others. When I'm not fiddling around with websites like this one, I enjoy outdoor activities — especially studying wild mushrooms and plants.
If you run a cannabis-related business and want to collaborate in some way, or just want to say hi. Give me a shout!
You can follow me on Twitter @thcaffiliates to keep in touch and stay up-to-date on important cannabis news, or reach out to me on LinkedIn about collaboration.
Thanks for stopping by.
— Toni Allen, THCaffiliates.com