Vaping is a growing industry, but I see more and more affiliate programs closing up on Shareasale, CJ, Impact and other big affiliate networks each week — here is a list of programs actually running (and paying affiliates). I aim to update this list frequently, so check back often to see what's new.
My full list of cannabis-related affiliate programs would be too big if it featured all the vape and ejuice merchants available, so I have started this new list which focuses exclusively on vaping related affiliate programs. To start, here's my shortlist of programs you should check out first:
Top Vape Affiliate Programs
This list includes the world's most popular online vape shops, and maybe a few you've probably never heard of. What these programs have in common are big-name vape & e-juice brands, helpful marketing tools for affiliates, but most importantly — have a track record of converting & paying their bills.
Central Vapors Affiliate Program
Central Vapors – Texas-based vape, e-juice, plus kit and DIY specialists. Brands include SMOK, Geekvape, Privileged, and many others. Bulk, wholesale and sample packs of e-juice available.
Pays 15% (two-tier available)
Program via Shareasale Network.
Pure CBD Vapors Affiliate Program
Pure CBD Vapors – Vape drips, Kits, oils, JUULs CBD Oil, CBN, Delta 8 and many CBD vaping brands like Blue Moon Hemp, Donkey Pops, Entourage Hemp, Sweet Wax Hemp and dozens more.
Pays 8-11% commission.
Large product datafeed & coupons.
Affiliate program managed via Shareasale.
US-based.
Dr Dabber Affiliate Program
Dr. Dabber – Dr Dabber is a well-known, award winning vape brand worth offering a unique selection of high-end vaporizers.
Dr Dabber is a well-recognized brand making them a solid choice for affiliate sales.
Vapor.com Affiliate Program
Vapor.com – Online retailer of vaporizers such as KandyPens, AirVape, Vaporfection, Honey Dabber, DaVinci, Yocan, Atmos, Boundless and many others. Plus vape parts, kits, grinders & accessories.
Pays 15% commission on sales
30 day cookies, product feeds, banners.
Vapor's affiliate program via Impact
US-based, International Shipping
Vapor's affiliate program is well-managed via the Impact platform, and international shipping is helpful with international audiences.
O2Vape Affiliate Program
O2Vape – Vape pens for Dab, Dry Herb, Oil, Wax, Concentrate and more. Unique brands include Dryonic, Mod & Pod and Flip styles.
Cartridge 510 thread batteries, carts, rigs, and just about any other accessory you can think of. Military discount.
Pays 15%, bonuses available.
Affiliate Program seems well-managed via Shareasale.
Large Datafeed.
US-based. Ships worldwide.
Vape Affiliate Programs & Networks
As I mentioned, there are literally hundreds of vaping-related affiliate programs out there, and although I would like to spend time fully testing and reviewing each – it's just not feasible. But, it doesn't mean you shouldn't check these out — maybe they will be a good fit for your audience.
AirVape – Vape Brand of AirVape X, Hippie , OM, Juice and more. Pays 15%, program on CJ.com
Avid Hemp – Full-Spectrum CBD Vape Juice. Flavors available include favorites like Gelato, Sour Diesel, and Fruity Flakes OG. Full terpene profiles for each flavor available. Pays generous 30% commission, sign up here.
Boundless Technology – Boundless Tech has been innovating cannabis vaporizing products since 2016. Most popular products include Terp Pen, Tera and CFC, CFX line for for dry herb. Affiliate program via ShareaSale.
Dip Devices – Brands itself as an innovative cannabis consumption company. Founded in 2014, Based in Denver, Colorado. Multiple affiliate platforms including inhouse on reversion and via Impact. Pays 15%
EJuice Connect – Many brands of e-liquid, electronic cigarettes and vapor products at wholesale pricing. Large product feed available. Affiliate program managed via Shareasale.
Flawless Vape Shop – Vapes, juice, atomizer, ranks, and beyond. Big brands like SMOK, RAD, Phix, naked 100 and beyond. Pays 10% commission via ShareaSale.
GrassCity.com – Online headshop with lots of vapes and juice. In-house affiliate program. Pays 8% commission with 30 day cookies. Offers bonuses, sub-affiliate (two-tier) commissions.
Grenco Science – Vape, Dab, carts and accessories via Gpen.com & Gpen.de Affiliate program managed on the Impact platform. Pays 5% commission. US, Canada, Brazil and Europe.
If you are not already, sign up as an affiliate for the ShareaSale, Cannafiliate, and Impact networks to find other great vape-related affiliate programs.
Vape Affiliate & Marketing FAQ
Since many vaping products contain nicotine or are used to consume CBD and cannabis — staying on the right side of the rules and regulations can be tricky. Here are some important
Can I advertise vaping products on Google Ads or Facebook?
No, Google does not allow e-cig, e-juice, vaping, CBD or just about anything related to be advertised via Google AdWords. The specific wording is "Ads for products designed to simulate tobacco smoking":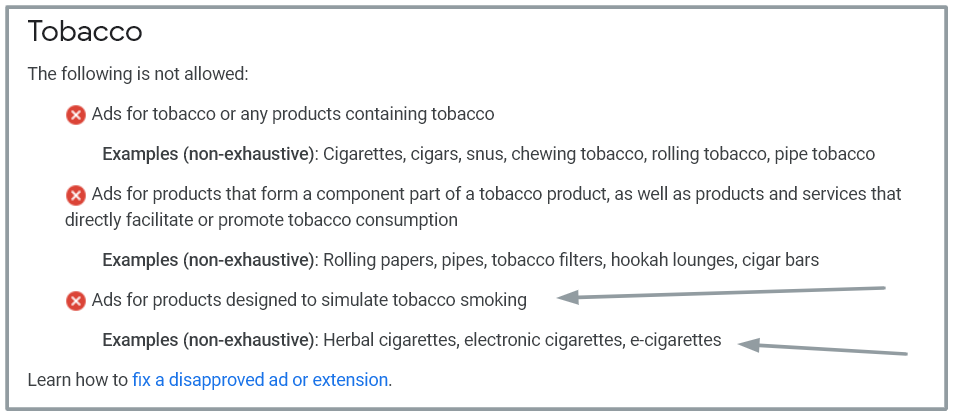 You can find Google's Ad policy here.
The same is true for Facebook, Bing, Pinterest, Snapchat, Instagram and most large advertising networks: no vape advertising allowed. If you want help check out my guide to CBD advertising, which lists advertisers that often DO allow vaping-related PPC advertising.
Important final note: before adding any vaping advertisements to your website, you should understand your local and international advertising laws that might affect you. Tobacco product marketing is regulated in the United States, Canada, Europe and many other places. Your affiliate manager, from the recommended affiliate programs on this page are a good place to ask for compliance tips.
Further Resources
If you are looking for related affiliate programs to promote, see my list of CBD affiliate programs and cannabis-specific affiliate programs.