By Toni Allen | Last update: March 13, 2023
Choosing the right POS (Point of Sale) system can make or break a new retail business, and dispensaries are no different. In fact, POS choice might be even more critical for a cannabis retailer because of regulations and reporting requirements.
This guide will help you understand the most common components in a cannabis POS system, along with the most popular options compared.
Please Note: I have no affiliation with any of the companies on this page. This guide isn't about which is "the best", it's about which is the "the best POS for you" based on your specific requirements, budget & legal restrictions for your geography.
In the United States, retail marijuana laws vary on a state-by-state level and your specific location(s) will greatly influence viable POS systems to your particular region.
I've added state-specific details where applicable, integrations and pricing info when available.
Top Dispensary POS Systems
The top cannabis POS software providers by market share are Greenbits, BioTrack, Flowhub and IndicaOnline. Here is a detailed review of each:
Greenbits / Dutchie POS
Greenbits (now owned by Dutchie) is an established US-based dispensary POS software system with integrated inventory management.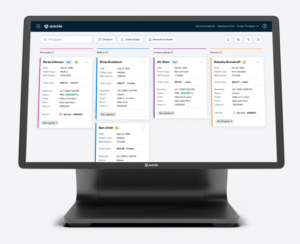 Compliance: METRC, Leaf Data Systems, and BioTrack
Pricing: $500/mo + $1500 setup*
* Estimate based on online forum discussions. You'll need to contact their sales team directly, as pricing information is not published on the greenbits website.
States supported: All legal states including Alaska, California, Colorado, Illinois, Maine, Maryland, Massachusetts, Missouri, Michigan, Montana, New York, Nevada, Oklahoma, Oregon and Washington.
Bottom line: Dutchie now owns two major cannabis dispensary POS systems with their acquisitions of Greenbits and LeafLogix in 2021. They rebranded LeafLogix as Dutchie POS, and also continue to expand their Greenbits market.
Flowhub Software Cannabis POS
Flowhub.com – US-based Cannabis retail management platform including POS and inventory management for running adult-use and medical dispensaries.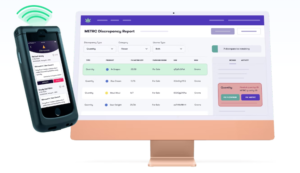 Flowhub software integrates with any hardware terminal. Their "Nug Pro" mobile scanner & ID verification system is an iPhone using cloud-based POS software.
Flowhub do not have their own digital menus, but instead offer integration with menu and kiosk providers like GreenScreens, Divvy Digital and Enlighten.
Pricing: Flowhub starts at $499/month plus one-time $1000 set-up fee.
Compliance: METRC, SafeArbor, CannaHauler
Integrations: Dutchie, Weedmaps, Headset, Leafly, Springbig and many others
Support: 365×7 Phone Support
States supported: Compliant in Alaska, California, Colorado, Maine, Maryland, Massachusetts, Michigan, Mississippi, Missouri, Montana, Nevada, New Jersey, New York, Oklahoma, Oregon, South Dakota, Vermont, and West Virginia.
Bottom line: Flowhub is well-known as one of the top options in cannabis retail software for good reason. They maintain compliance in all legal states and integrate with almost everything and anyone. Visit Flowhub.
IndicaOnline Dispensary POS
IndicaOnline POS – Established in 2011, long-time MMJ-focused POS system and EMR platform for cannabis dispensaries. In addition, they offer a mobile cannabis delivery POS. HIPPA-compliant & focus on medical cannabis dispensaries.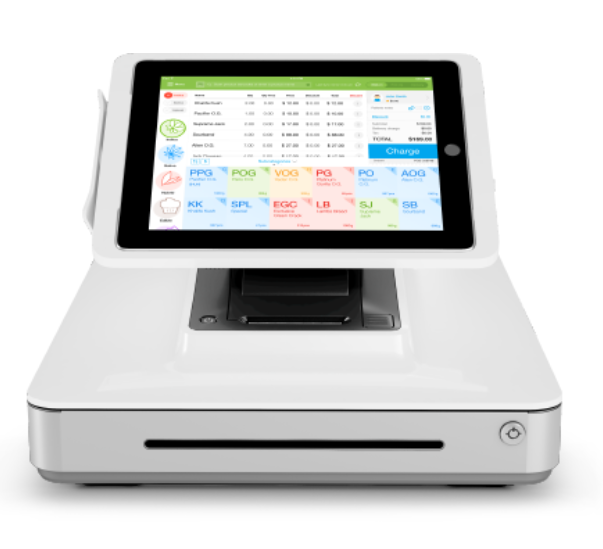 Hardware: Integrated receipt printer, cash drawer, MSR, barcode scanner and customer-facing display. Bluetooth connectivity and expansion ports. Optional peripherals include handheld scanner, weight scale.
Built-in MSR or optional NFC reader for contactless payments. EMV support via USB or Bluetooth to provide your customers with a full-function, mobile POS.
Integrations: Integrates with Potify delivery platform, Weedmaps directory, and METRC reporting.
States supported: Available and compliant in all legal recreational and medical US States (plus Canada) including Alaska, Arizona, California, Colorado, Illinois, Maine, Michigan, Missouri, Montana, Nevada, New Jersey, New York, Oklahoma, Oregon and Washington.
Pricing: starts at $249/mo for basic service. $429/mo for "elite" service which includes advanced features like digital TV menus and delivery service integrations. Enterprise available.
Support: Phone support is available Mon-Fri: 7am-9pm PDT. Sat-Sun: 8am-9pm PDT. An online ticketing system is available after hours.
Update frequency: Regular monthly updates with other periodic updates as needed. See release notes.
Bottom line: MMJ-focused dispensaries should consider this POS system as they have a solid-track record with almost a decade of experience in maintaining securing and compliance needed for handling medical records. Visit IndicaOnline.
BioTrack Dispensary POS Software
BioTrack is a pioneer of seed-to-sale traceability and compliance, and also offer their own POS system for dispensaries. In 2013, they implemented the Washington State Traceability System (similar to METRC), and won additional state contracts in Delaware, New Mexico, Illinois, New York and Hawaii, and Puerto Rico.

However, they are probably the least-liked POS out of any of the systems in this guide. Read some of these reviews from budtenders and dispensary owners about the BioTrack POS.
Integrations: METRC reporting, Helix Cannalytics, DataOwl
Pricing: $499/mo + setup
Pricing and feature information is not readily available online as compared with other POS providers on this page. See BioTrack website.
Alternative POS Systems
Although the previous four POS providers cover 50%+ of the total market share, there are a handful of other systems worth looking into.
Cova Software Dispensary POS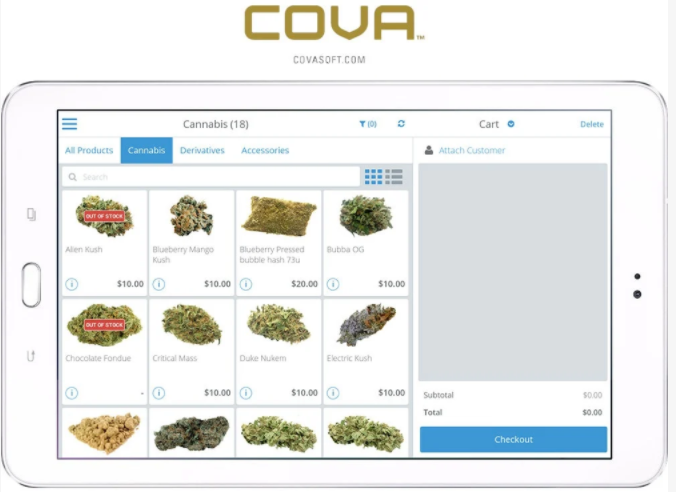 Cova POS – Complete cannabis dispensary POS software & inventory management system with mobile capability and many integrations.
Hardware: Relies more on software & uses display screens and software over proprietary hardware.
States supported: Complaint in Alaska, California, Colorado, Illinois, Maine, Massachusetts, Michigan, Missouri, Mississippi, Montana, Nevada, New Jersey, New Mexico, New York, Oklahoma, Oregon, and Washington.
Pricing: Single workstation base plan starts at $349/mo and the $549/mo plan upgrades to 4 workstations, digital menus, multi-lingual support, CRM and other features.
Customer Support: Online live chat and phone support. Claims impressive average wait time is 13 seconds and our availability is an impressive 98 percent
Compliance & Reporting Integrations: Metrc, Biotrack, Leaf Data
Integrations: Leafly, Weedmaps, GreenRush and I Heart Jane.
Bottom line: Solid track record in maintaining compliance. Smart integrations, API tools, and mobile payments keep them competitive. Visit Cova POS
MJ Platform (MJ Freeway)
MJ Platform (formerly known as MJ Freeway) is POS software service for retail dispensaries in the United States.

Hardware: Claims easy integration with most POS scanners and terminal hardware.
Bottom line: there is very little information online about the MJ Platform POS, though if you search for "MJ Freeway" you'll find more discussions as this was one of the first dispensary-specific POS providers.
Treez Seed-to-Sale Software
Treez – California-based. Cannabis seed-to-sale software suite for dispensaries and cultivators. METRC compliant reporting.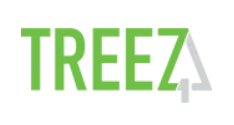 Not much pricing or other information online, but still worth checking out if you are a Californian dispensary or producer – as it seems to be one of the most-liked POS systems from the viewpoint of budtenders.
EzGreen POS
ezGreen is a medical compliance-focused dispensary POS software. Runs Windows, Android or IOS devices, and integrates with most peripherals such scanners and scales.
Compliance: HIPAA & METRC compliant.
There is very little information online about ezgreen's POS, even their own website seems to be broken at this time.
OMMPOS Cannabis POS Software
OMMPOS – Oregon-based cannabis software offers web based point of sale and inventory management system, and hardware packages for dispensaries.
Pricing: Starting at $50/month. Based on # of transactions.
Hardware: None included. Complete hardware package $3800, ala cart items like displays, terminals etc. available.
Compliance: METRC integration
ADILAS Dispensary POS Software
ADILAS Cannabis – Division of Adilas for Business.
Seed-to-Sale software providers for all cultivation, manufacturing facilities, delivery / distribution and dispensary POS systems.
Pricing: Basic service starts at $187 – $487/month.
NaturePay.net Banking & POS
NaturePay.net – US-Based. Sales reps out of Alaska & Illinois. Provides banking, credit card processing, and software for cannabis businesses, including cannabis POS systems.
They have little information available on their website, and do not publish pricing information.
Marijuana POS Buyers FAQs
Common questions and answers to help you understand and decide which POS system will work best for your dispensary.
What is METRC and Which States Use it?
METRC stands for Marijuana Enforcement Tracking Reporting Compliance. It is an online reporting system. Most legal states require cannabis businesses to report data to the METRC system in order to fulfill their seed-to-sale tracking obligations.
METRC is use or being implemented in: Alaska, California, Colorado, Maryland, Michigan, Montana, Nevada, Oklahoma, Oregon, and Washington. The system is also being implemented in other states, including Massachusetts, Ohio, Rhode Island, and Virginia.
Bottom line: It is vital for your POS to be fully-compatible & compliant with METRC in the United States.
How Much Does Cannabis POS Software Cost?
If you are in the planning stage and working on costs for a dispensary business plan, these prices should help. Due to the need for METRC and other regulations, even the smallest cannabis store or delivery service should expect to pay $150+/mo for their POS software and services. With an average cost being closer to $350-$500/mo for more robust features such as ecommerce & delivery integrations.
What Are Important Considerations When Choosing a POS?
Here are some points to consider while researching POS options for cannabis retailers:
METRC Compliance: Ensure the POS is compliant with METRC requirements and can help you adhere to regulatory standards in your state.
Support: Look for a POS that includes customer support through the channels you prefer (phone, online, etc) and training to ensure you can get help when needed.
Ease of Use: Ensure the POS is user-friendly and intuitive to maximize efficiency of your staff. Read reviews and discussions from dispensary staff to get an idea of the pros and cons of various POS systems.
Scalability: Look for a POS that can scale with your business as it grows and changes, and the market changes. You may not need a certain functionality when you first open, but as you grow you'll want options to be available.
Technology: Cannabis and technology are fully-intertwined in modern dispensaries. Digital menus, fully integrated with inventory, delivery services, and ecommerce are common components of dispensary-specific POS systems & related software. Which are the most important to your dispensary now, and what might you want in the future?
What's The Best POS for Dispensaries?
Unlike in other industries, you only have a dozen-ish choices for compliant (legal) cannabis-specific retail POS software and systems.
To help whittle down your choices, I've lumped them in simple "best for" categories:
Medicinal dispensaries require extra features (like HIPAA compliance) over a recreational dispensary. IndicaOnline, Flowhub, and Cova are probably your best bets to start your research.
If you need more robust seed-to-sale options, for example — you are a cultivator, processor, manufacturer, etc in addition to doing retail sales (online for offline dispensaries) look at Biotrack, Greenbits, Flowhub, ADILAS or Treez.
For dispensaries that want access to all all modern technologies like digital menus, inventory management, ecommerce, online marketing and delivery options and the widest range of integrations look at Cova, Greenbits, and Flowhub.
In addition, some state-specific POS systems are worth looking at depending on your location. For reviews by dispensary owners and staff, I suggest reading reddit discussions like this, instead of looking at review sites.
Canadian Cannabis POS Systems
In Canada, Greenline, Cova and IndicaOnline are worth looking into first. Shopify is also a top choice, being the winners of many government contracts. See our full guide to Canada Dispensary POS Options and Canadian cannabis businesses for more resources.
Related Software and Services
Fishbowl – METRC Inventory management. Fishbowl works with METRC to help cannabis growers and sellers track their plants from seed to sale and maintain compliance.
Weedmaps – Is a market leader in connecting cannabis consumers to legal local dispensaries and delivery services. Robust API & integration options with many POS systems.
Dutchie – Allows USA & Canadian dispensaries to sell online, and recently lauched their own POS. Dutchie integrates with existing websites and many of the POS systems featured on this page.
Springbig – CRM suite of tools including rewards, referrals, and promo communications.
Further Reading
Cannabis Advertising Networks – It can be hard to find legitimate opportunities to market and advertise for cannabis retailers and MRBs (marijuana-related businesses). See our guide to advertising networks that accept cannabis & CBD-related advertisers.
Dispensary Marketing & Advertising – Options for promoting your dispensary both online and offline.
Cannabis Franchising – Learn about the various cannabis-related franchising opportunities from dispensaries to micro-grows.
Dispensary owners and employees: what POS systems do you have experience with in your state or province? Please share.