Author: Toni Allen | Last update: Feb 18, 2023
There are numerous opportunities for those looking to capitalize on the cannabis industry, ranging from dispensaries to professional services to micro-grow franchises. We'll look at dozens of cannabis business ideas and success stories in this post to help you get started on your own venture.
We've grouped these into categories to help organize this page; you can navigate using the table of contents:

By the end of the post, you should have a better understanding of the potential of the cannabis industry and unique ways to capitalize on it.
Retail & Sales
CBD Vending Machines: Vending machines are a simple turnkey business that can produce residual income with little effort and small initial investments. These can be a great addition to an existing business like a gym or corner store.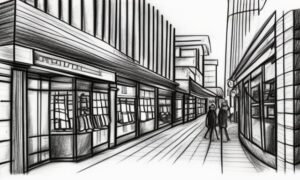 Dispensaries: Potential retailers can find plenty of opportunities, from CBD boutiques to brick-and-mortar marijuana dispensaries. Dispensary franchising is one option to consider, as there are now dozens of companies offering opportunities like Unity Rd, Eufloria and Spiritleaf.
Subscription Boxes: Curate and deliver a selection of cannabis-themed products to customers on a recurring basis. Products can be sourced from a variety of suppliers, including CBD and headshop wholesalers.
Headshops: With the rising popularity of dispensaries, there is also a booming market for cannabis & smoking accessories. This could be a traditional storefront or online store.
CBD Dropshipping: Dropshipping is a popular way to start a business without having to worry about the hassle of inventory. With CBD dropshipping, you can partner with a supplier and create your own online store. You'll be responsible for marketing and selling your products, and the supplier will handle the dropshipping for you.
CBD Wholesale: If you're looking to get into the CBD industry, consider becoming a wholesaler. This is a great way to get into the industry without having to invest in inventory. You'll be responsible for finding and negotiating with suppliers, and then selling their products to customers. For inspiration see this list of wholesale CBD suppliers.
You can also run an online affiliate shop related to cannabis where you don't need to own physical stock to earn commissions.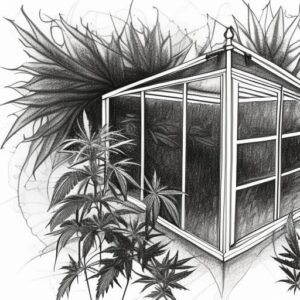 Cultivation and Production
These types of businesses involve growing and harvesting cannabis plants, as well as creating a range of products such as flower, edibles, concentrates, and topicals. With the right resources and goals, this can be a lucrative business on any scale.
Micro-grow Franchises: It's worth looking into micro-grow franchises like those offered by Fast-leaf. These allow for a much faster and streamlined entry into cannabis agriculture by being able to rent small spaces in larger grow facilities, often with training and equipment provided by the franchiser.
Cannabis Facility Design and Construction: If you have experience in design and construction, consider offering your services for cannabis cultivation and production facilities. This could include building design, electrical and plumbing work, and HVAC installation.
Testing Laboratory : If you have a scientific background, consider starting a cannabis or medical marijuana testing laboratory to test products for quality and potency. Laboratories ensure that businesses are offering high-quality products to their customers and adhere to industry standards.
Security and Transportation
These may seem very different industries, but with Cannabis security and transportation are intertwined through state and local regulations. This is a booming industry and worth considering.
Delivery Service: With more people staying home than ever before, a cannabis delivery service could be a great business opportunity. This involves delivering cannabis products to customers at their homes or workplaces. Many states legalized cannabis delivery services during the pandemic and offer special licensing for this type of business.
Cannabis Transportation: Another growing industry is cannabis transportation. You'll be responsible for transporting products between growers, producers and retail businesses, as well as ensuring their safety and security during transit. In many states, this is a regulated service requiring special licensing.
Cannabis Security: All dispensaries and grow operations require trained security personnel & security systems.
Marijuana dispensaries have unique requirements for both practical and legal reasons across jurisdictions, making security a specialism worth considering.
Cannabis & CBD Products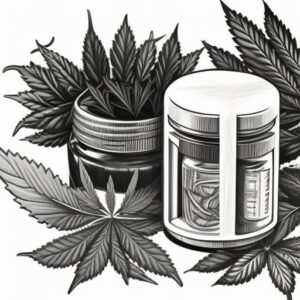 If you want to create your own CBD edibles or other products, you can purchase bulk CBD, CBG and other cannabanoids and get creative.
CBD Pet Products: Just as humans are turning to CBD for its health benefits, so are pets. Consider creating pet-friendly CBD products, like CBD-infused treats and supplements. This could include tinctures, treats, and topicals formulated specifically for pets.
Wellness Products: Another potential business idea is creating and selling cannabis-based wellness products such as topicals, tinctures, and other products formulated to promote health and wellness. With the growing popularity of cannabis-based wellness products, this could be a lucrative venture.
Nutrition and supplements: This could include protein powders, energy bars, and vitamins, all infused with the benefits of cannabis. Help your customers improve their health and wellness with these unique and effective products.
Hemp Clothing: With the rise of the athleisure trend, hemp clothing is becoming more and more popular. With the right skill set, you could create a side-gig selling custom-made hemp clothing.
CBD Snacks: As more people turn to CBD for its health benefits, so does the demand for CBD-infused edibles. Whether you're an experienced baker or a novice, you can create CBD-infused snacks to sell as a side-gig.
Beauty and Personal Care Products: Another idea is creating and selling cannabis-based beauty and personal care products. This could include lotions, balms, and cosmetics, all infused with the power of cannabis. Help your customers feel and look their best with unique and high-quality products.
Hospitality, Tourism and Events
Cannabis Cafes: Coffee shops that allow consumption of marijuana on-site have been popular in Amsterdam for decades. Note that many states still do not allow public consumption even within a private establishment. But, as regulations change this type of business is sure to boom. In Europe a popular franchise of cafes is "Cannabis Store Amsterdam" with over 120 locations.
Cannabis Bed and Breakfast: Have an affinity for hospitality and want to combine it with your passion for marijuana? Consider opening a cannabis bed and breakfast. Services like Airbnb and Vrbo make it easy to get started. For inspiration: Budhub maintains a directory of these weed-friendly rentals in Canada.
Event Planning: If you have a knack for event planning, consider starting a business that plans and produces events related to the cannabis industry. This could include trade shows, conferences, and workshops. This business can be done on a small or large scale, and you may also be responsible for coordinating logistics, marketing, and ticket sales.
Cannabis Tourism: This could involve guided tours of cannabis cultivation and production facilities or cannabis-infused culinary experiences. This can be done through partnerships with existing tour companies or by creating your own tour offerings.
Cooking and Catering: If you have a passion for cooking and catering, consider offering marijuana and/or CBD-infused services. Create meals and snacks that incorporate cannabis as an ingredient, and wow your clients with unique and delicious dishes. You could also create and sell cannabis-infused condiments and other food products, catering to the growing demand for cannabis-infused culinary experiences.
Professional Budtending Services: Budtending services are beginning to replace bartenders & open bars for cannabis-related corporate events and private functions. You can get started by networking and reaching out to cannabis-event organizers to gain clients.
Marketing, Advertising and PR
Do you have a knack for marketing and advertising? Consider offering your services to cannabis businesses. Help them reach their target audience and promote their products through effective marketing strategies and campaigns. Here are some specializations to consider.
Social Media Management: Are you a social media pro? With the right skills and strategy, you can help businesses effectively connect with their target audience. Cannabis-specific social media can start small by advertising for free market places such as fiverr.com
Cannabis Content Creation: If you have a way with words, consider offering content creation services to cannabis businesses. This could include creating blog posts, articles, and newsletters, as well as marketing materials like brochures, flyers, and advertisements.
Online Marketing Agency: With tight restrictions on advertising, cannabis companies need SEO-driven content marketing strategies and knowledgeable writers to create enticing product descriptions, blogs, and social media posts.
Some writers and content agencies like Cannabis Promoter, Beaches and Weed, and Weed Copy Writer have found their niche in cannabis content and digital marketing services.
Product Photography: Have a talent for capturing great photos? Consider offering product photography services to cannabis businesses. Help them showcase their products on their website and social media platforms, and draw in customers with visually appealing images.
Product Packaging and Labeling Design: If you have a creative eye, consider designing and creating packaging and labeling for cannabis products. Help businesses stand out in a crowded market with eye-catching and professional packaging and labeling while maintaining compliance standards.
Graphic Design Agency: Cannabis companies require a host of graphic design services, from logos to packaging labels to infographics for blogs. If you have previous experience as a graphic designer, now might be a good time to pivot to specializing in cannabis-clients. How to start: create an online portfolio showcasing your best work and use social media to reach out to gain a following.
Websites & Online Publishing
If you have special knowledge or expertise you can share, and like learning new things – cannabis website publishing might be a good fit.
Cannabis Blogging: If you already have experience in the cannabis industry, you could share your knowledge to earn an income though advertising or other forms of monetization. Marijuana Moment is a great example of a successful website started from modest beginnings.
Online Communities: Examples of successful cannabis-only online communities include Leafwire geared towards businesses, and GrowDiaries for hobby growers. Though, there are also plenty of small, closer-knit communities like Percy's Grow Room.
Website Design & Development: With new cannabis businesses popping up daily, web developers are needed for building websites that stand out from the crowd. You can create value for your customers by offering expertise in regulations, software, etc.
If you have experience in web design, development or online marketing — cannabis could be a good niche to specialize in.
Professional Services
If you are already a self-employed professional, pivoting your services to the legal cannabis industry can be a lucrative niche, here are some examples.
Consulting and Education: If you have a wealth of knowledge about the cannabis industry, consider offering consulting and education services. This could involve helping businesses and individuals navigate the industry, including compliance with regulations, business planning, and marketing. Offer your services through one-on-one sessions, workshops, or online courses.
Accounting and Financial Services: If you have a background in accounting or finance, consider offering services specifically tailored to the cannabis industry. This could include tax preparation, financial planning, and marijuana business consulting services. With the growing complexity of the cannabis industry, there is a high demand for specialized accounting and financial services. For help getting started, check out DopeCFO – training for those looking to provide accounting services in the cannabis industry.
Cannabis Compliance: Are you a detail-oriented individual with a knack for understanding regulations? Consider becoming a cannabis compliance specialist. Help businesses stay up-to-date on industry regulations and ensure that their products and services are compliant with local, state, and federal laws.
Cannabis Real Estate Agency: Finding suitable properties to buy or rent for cannabis businesses can be a challenge. Specialized real estate agencies help cannabis businesses navigate zoning laws.
Cannabis Legal Services: Another potential business idea is offering legal services to businesses and individuals in the cannabis industry. Help them navigate the complex legal landscape and comply with regulations, and be a valuable resource for businesses looking to operate legally and ethically.
Cannabis Business Insurance Agency: Specialized insurance coverage is crucial for dispensaries, grow operations and their landlords. If you already are involved in underwriting, this could be a nice specialization.
Software and Technology
With the growing need for technology solutions in the cannabis industry, this could be a lucrative business opportunity for software developers.
Cannabis Software and Technology: Tech-savvy entrepreneurs can find a unique niche developing custom apps and software for cannabis businesses. For example; Cannabis-specific POS systems are in growing demand as more states and countries fully legalize.
Developers might want to consider specializing in software targeting cannabis merchants such as inventory management tools, and e-commerce platforms.
Other Ideas
Packaging Manufacturing: Cannabis & CBD products require specialized packaging to ensure maximum freshness, safety and discretion — and follow government guidelines. Package manufacturers experienced dealing with red-tape & regulations could pivot to cannabis packaging.
Conclusion and Further Resources
It's important to assess the local market conditions and regulations before starting a legal marijuana business. This can help you to understand the demand for cannabis products in your area and identify potential opportunities and challenges.
This information will help you draft a business plan, which is required by state & provincial regulators when applying for a license — but a business plan is good to have even if not required by law.
Helpful Links & Resources:
FAQs
Are cannabis dispensaries still profitable?
Yes. On average, dispensaries make $2M – $3M in gross revenue in the United States and $1M – $2M in gross revenue in Canada.
Net profit margins range between 12% and 21% — the low-end tending to be established markets like Colorado and California. This means a dispensary making $2M gross at a 15% profit margin would net about $300,000 annually.
However, if you launch a dispensary in a new market or state with cheaper taxes and operational costs, you could see substantially higher profits.
How big is the cannabis retail market in the United States?
Cannabis retail sales in the US are expected to exceed $40 billion in 2023, up over 50% from 2021, predicts MJBizDaily Factbook 2022. This growth is driven by the increasing legalization of cannabis for medical and recreational use, as well as the growing demand for cannabis products. When marijuana is legalized at the federal level, even more opportunities will become available.
Where in the United States has legalized recreational marijuana?
As of 2022, Alaska, Arizona, California, Colorado, Connecticut, Illinois, Maine, Maryland, Massachusetts, Michigan, Missouri, Montana, Nevada, New Jersey, New Mexico, New York, Oregon, Rhode Island, Vermont, Virginia, and Washington that have legalized recreational cannabis. Plus DC, Guam and the Northern Mariana Islands.