Author: Toni Allen | Last update: Feb 17, 2023
Most CBD and cannabis-related businesses can't buy advertising on the biggest online advertising platforms like Google and Facebook. But, there are plenty of alternative options. This guide will help you find the right channels to market your brand, dispensary or ancillary cannabis business.
Where can you advertise your cannabis business online?
Good question. Unfortunately, the largest paid advertising platforms like Google ads, Bing, Facebook all have very strict or outright bans on paid advertising for cannabis & CBD.
You can still gain exposure on these platforms in alternative ways like social media marketing and SEO strategies – but simply buying advertising is likely not available to your cannabis business from the big networks.
CBD Paid Search & Social Media
Paid search, sometimes referred to as SEM (search engine marketing), is when advertisers bid on keywords related to their product in order to appear as ads in search results. Paid social is similar, but as the name implies — the ads appear on social media platforms — such as Facebook Ads.
Compared to the average business, advertising options for cannabis brands, dispensaries, and websites are very limited. Even CBD, which is widely available in the United States since the 2018 Farm Bill is still banned from the largest advertising platforms. Here are the specifics with links to guidelines and sources.
Twitter Ads for Cannabis
Twitter just announced (Feb 17th, 2023) that they are now opening their platform up to cannabis advertisers in both the United States and Canada — making twitter the first major social media platform to do so.
See Twitter's Cannabis Advertising Policy here for the full details.
Google Ads Cannabis Policy
Google Ads are the most commonly seen form of advertising online. They appear above, below, and sometimes to the side of Google Search results, and on publishers websites as "AdSense".
Google Ads Cannabis Policy Overview:
Policy Specifics: No Cannabis (brands, dispensaries, etc.) or CBD advertising allowed. Boo. Specifically, Google's ad policy states that "ads for substances that alter mental state for the purpose of recreation or otherwise include 'highs' … and "products or services…facilitating recreational drug use" are not allowed.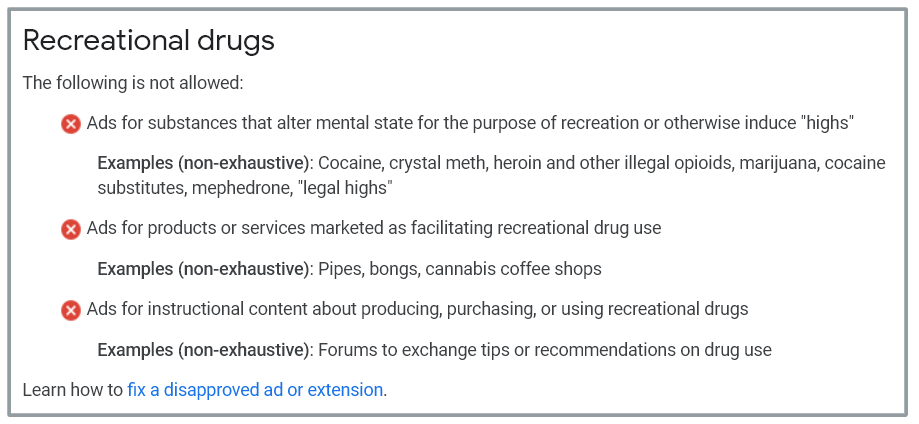 Additionally, Cannabidiol (CBD) is listed under Google's "Unapproved pharmaceuticals and supplements". https://support.google.com/adspolicy/answer/2423645
Exceptions: Hemp seeds seem to be OK for Google Ads, because they are classified as an agricultural product. Also, some marketers have noticed non-consumable non-medical forms of CBD (like for skin-care) to be allowed in some cases. But the official policy of Google+CBD is still an absolute ban.
Important: Google My Business (GMB)
Although you can't directly pay to appear in google search results, dispensaries and others can and should claim or register a listing with Google My Business in order to appear in Google Maps & local searches.
To get started, you simply fill out a short form with your business address, Google sends a postcard confirmation, and then you are set up. This is probably the most important and easiest thing a cannabis business can do to gain more exposure and legitimacy.
Bing & Microsoft Advertising Policy
Bing isn't marijuana friendly, either. No cannabis, not CBD even. Your completely legal Canadian dispensary? No. Legitimate CBD products? No.
Bing Advertising Cannabis Policy Overview:
While Bing's cannabis & CBD ad policy is not quite as clearly spelled out as Google's, the rules are similar to Google's, and marijuana-related advertising is just not allowed.
Facebook Ads Cannabis Polices
Paid Ads promoting recreational drugs like marijuana, dispensaries and CBD are not allowed on the Facebook platform. Exemptions might include CBD topicals, but it's still iffy without Facebook officially confirming this, yet.
Facebook Ads Cannabis Policy Overview:
One important note about Facebook & cannabis businesses: Although you can't buy Facebook ads directly, Facebook does allow some cannabis-related pages, business listings & groups for dispensaries. But, it can be tricky. (my full guide to non-paid social media marketing in the works – stay tuned!)
Other Social Media Advertising
What about cannabis advertising on Pinterest, Snapchat, Twitter, etc?
For paid advertising options on these social media platforms for any form of cannabis, including CBD the answer is mostly…Nope, no, also no, and probably not.
Well, that was a disappointing. Luckily, even though Google, Microsoft and Facebook are not willing to touch your money, the following list of advertising networks, cater only to cannabis and CBD advertisers.
CBD and Cannabis-Friendly Ad Platforms
Although these networks aren't exclusive to cannabis content, they do have experience and allow legal cannabis-related advertisers to join their networks:
ShareaSale.com – Long-running & reputable performance-based affiliate network that supports CBD, and cannabis ancillary businesses. I've been in affiliate marketing for over a decade, and they are my favorite affiliate platform.
Impact – Large performance-based ad network that has a growing merchants and publishers in the CBD and cannabis accessory space.
Outbrain.com – Outbrain is a large native advertising network (click-baity "recommend content" type ads), and allows promotion of CBD products and cannabis-related investments or stocks in a variety of formats.
If you are interested in learning more about these networks and others, check out my full guide to cannabis & CBD advertising networks. Also, if you want to spy on competitors see successful CBD affiliate offers and programs.
Cannabis-only Advertising Networks
There are also a few newer ad networks that cater solely to cannabis & CBD advertising.
CannAffiliate
CannAffiliate – Newish, cannabis-only affiliate network with that accepts a variety of legal cannabis merchants including dispensaries & delivery services, CBD brands, vaporizers and accessories. Fees: 10% Network Fee
Green Affiliates
Green Affiliates – Facilitates partnerships between top publishers and brands in the cannabis industry. Small network with seed banks, CBD brands and grow equipment.
CBDAffs Affiliate Network
CBDAffs – CBD-only affiliate advertising network with thousands of affiliate partners and about 50 merchants.
Mantis Ad Network
The Mantis Ad Network is a cannabis-specific display and native ad network. They offer a variety of banner formats, videos and "recommended content" native ads.
To get started there is a $500 minimum deposit to get started. I use Mantis native ads myself, and have written about my experiences in my Mantis Ads review.
CBD & Cannabis Directory Listings
If you are a dispensary or ancillary service that sources its audience locally, then local advertising is vital. Here is an overview of your main options.
Weedmaps and Leafly
Leafly and Weedmaps are the two biggest websites directories that point foot-traffic to brick and mortar dispensaries and delivery services.
To get an idea of how they direct traffic, try searching for "dispensaries near me" in a search engine and see what the top results are — you'll find Leafly and Weedmaps in the top spots for most geographies.
Leafly – Has one of the largest cannabis audiences online, serving over 10 million visitors. They offer a variety of advertising packages for dispensaries, brands and other services. Expect to pay about $300+ a month to get listed.
Weedmaps – Like Leafly, this one of the most used options for local dispensary advertising. Pricing is comparable, at about $300+ a month.
Alternatives (up and coming competitors) of Leafly and Weedmaps include the Potguide & WayofLeaf.
Google My Business (GMB)
If you have a dispensary or other local business, you need to take advantage of your Google My Business listing. It's free, and probably the easiest and most affective form to get more exposure.
So, if you don't have the budget for Weedmaps or Leafly, don't fret: GMB and a free Facebook business page will be enough for the majority of dispensaries where there isn't heavy local competition.
Private Ad Sales
The largest marijuana-related websites often offer package deals of display, content, newsletter and social media exposure. Here are links to more info.
HighTimes
HighTimes – Beyond print, HighTimes has a huge online audience that offer social, sponsored content and a variety of other advertising options.
Ganjapreneur
Ganjapreneur has been around since 2014, and is a popular website focused on the cannabis for industry professionals.
For cannabis professionals, ganjapreneur offers advertising in the form of directory listings. Basic listings cost $750 yearly, and premium listings are about $2000 a year.
For information on their advertising packages you can request a media kit here.
Other CBD & Cannabis Advertising
Fiverr – There are some cannabis & CBD influencers and publishers that offer a variety of sponsorship and promotional options for marijuana-based businesses. The quality varies.
CBD and Cannabis Advertising FAQ
Can I advertise CBD with Google or Facebook Ads?
No, CBD products are not allowed to be advertised on either Google Ads or Facebook Ads. CBD is listed under Google's "unapproved pharmaceuticals" and promoting recreational drugs like marijuana, dispensaries and CBD are not allowed on the Facebook platform.
Hemp seeds and topicals (CBD ointments) might be able to work around this, but just about any other CBD product, dispensary or cannabis brand will not be able to simply purchase Google or Facebook Ads.
What's the difference between affiliate and display advertising?
Affiliate marketing is a type of performance-based marketing:- meaning costs paid by the advertiser are based directly on sales (usually as a percentage). This is different compared to display advertising which is bought on a CPM basis (cost per 1000 impressions).
What about cannabis lawyers, accountants, and other ancillary professional services?
Lawyers and legal services seem OK on Google Ads (from just looking at search results for "cannabis lawyers" or "marijuana lawyer"). There were no paid ads for "Cannabis Accountant's or "Cannabis CPAs" when I checked, but assume that would be OK. I have read (but not confirmed) that any google ad with "cannabis, marijuana, weed, etc." in the copy is subject to getting cut off without warning.
What's the best alternative to Google & Facebook advertising for cannabis & CBD business?
Using a multi-channel approach is probably best. Personally, for cannabis PPC – I like Mantis Ads, the interface is so much slicker than Outbrain or Taboola. For dispensaries Weedmaps and Leafly are top options. For ecommerce, I recommend affiliate marketing with an established network like Shareasale.
For more information see my list of Cannabis Ad Networks.
Is this information up to date?
This page is updated frequently. If policies change, this page will be updated with new information as soon as possible. Feel free to leave a comment below with your questions or suggestions — thanks!