Author: Toni Allen | Last update: March 13, 2023
Are you thinking about starting a cannabis business in Canada? As with any new industry, cannabis suits a wide variety of businesses from retailers to cultivators, processors and beyond. But, there is also a few important points to consider before starting.

Below we will discuss the steps & regulations involved to get you on the right path to start your own cannabis business in Canada.
First, if you already have a general business idea, write down that basic concept in one or two paragraphs. What is the product or service? Who is your target market? How will you make money? What would success look like in 1,5 and 10 years?
This will give you focus and be your first pen to paper listing of your goals. Then you can move onto research.
Step 1 – Do Your Research
Although cannabis is legal for medicinal and recreational use, each Province & local government have implemented their own regulations according to the guidelines of Cannabis Act.
The Cannabis Act creates a strict framework for controlling all aspects of the cannabis industry from production through to possession. It's important to know how these regulations affect your business idea.
Planning and research are your best tools this early on and to use all resources available to you from industry associations, chambers of commerce and business intelligence resources. Many cities, like Calgary and Vancouver, publish their own guides to help would-be cannabis entrepreneurs navigate rules and regulations.
It would be a horrible waste of time and money to find out months into starting that your business is illegal to manage. Here are some other important things to keep in mind during your initial planning.
Cannabis Licensing in Canada
If you plan on growing or selling cannabis, your business plan will be heavily influenced by the cannabis license(s) you will need both federally and provincially.
At the federal level, you must apply for a cannabis licence under the Excise Act, 2001 if you are:
cultivating (you grow cannabis products)
producing (you produce cannabis products)
packaging (you package cannabis products)
One business may need multiple depending on their operations, so licenses are not mutually exclusive. Health Canada's website provides information and resources that will guide you through the process of which license is right for your business model.
Provinces and local governments have their own requirements, and handle the retail side of cannabis licensing. For example, if you wanted to open a dispensary in Toronto, Ontario the regulators & licensing would be different than opening a dispensary in Vancouver, British Columbia.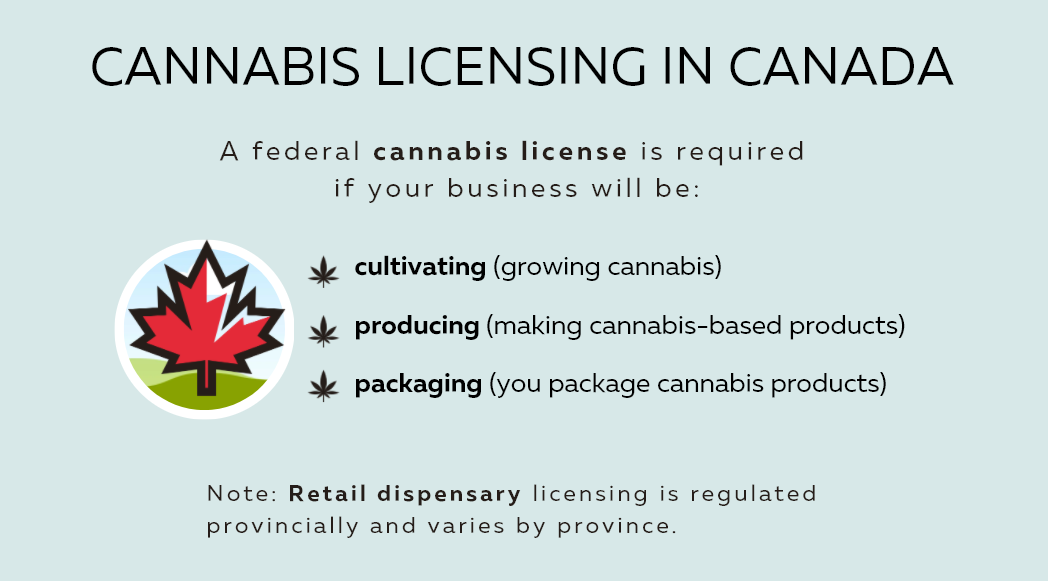 Beyond licensing, understanding how to maintain federal, provincial and local compliance should be a thorough research project for any would-be cannabis-related business in Canada. This knowledge will inform your business plan and planning in general.
Cannabis Business Financing
During your initial research, be sure to see if any grants are available to you. If your plans require securing loans or financing, you'll need to do extra research to understand special requirements and which lenders offer financing for cannabis businesses. (more details about banking later in this guide)
Cannabis Franchising: In 2023, there are a variety of brands offering franchising opportunities for would-be retail and growing businesses. Here is a list we put together of Canadian Cannabis Franchises.
Step 2 – Create a Business Plan
Now that you've done your initial research, it is time to work out a business plan. This is be your guide as you setup and grow your new company.
If you want to grow or sell cannabis commercially, getting specialized help with your business plan and license applications via a cannabis consultant or lawyer is well-advised and will save money and headaches.
A proper business plan will be needed to apply for any necessary licenses, grants, loans, merchant accounts, insurance, retail space, etc.
Simple online businesses, that don't directly sell or produce cannabis, with no employees or special licensing will manage fine with a basic business plan (templates widely available for free online).
Important note: Steps 3 – 8 are not completely linear, and have overlapping time-frames. Please read through all steps in this guide before going any further.
Step 3 – Choose a Business Name
Choosing an easy to remember name that relates to your business is imperative to customers and brand.
Before choosing a name, you need to be aware of the very strict marketing and branding guidelines cannabis. Celebrities and mascots are forbidden, and other cannabis-specific marketing regulations should be kept in mind before you settle on a name and brand that might be illegal. (more below in advertising notes)
It is also a good idea to see if a matching domain name is available before you finalize your name.
Domain Name Tips
Below are some points on choosing good domain names:
Keep it short, less than 15 characters. (shorter is better)
Make it easy to type.
Make it memorable
Use an appropriate extension such as .ca or .com
A business name is a reflection of your mission objective and should be researched before you choose one.
Step 4 – Register Your Business
Now that you have completed the first three steps you will be able to register your business and have the correct documentation. In your business plan you will have your office location and your organizational structure.
Choosing whether you register as a sole proprietor, corporation, partnership or cooperative depends on your business type and goals. You'll need to understand the differences between these types of businesses to help you decide which is best for your venture.
Step 5 – Set up Banking Account
Although some banks wont touch the cannabis industry, the Canadian banking sector has been getting involved in the trade since mid-2018, and you shouldn't have an issue finding a bank account.
Make appointments with bank managers at your preferred bank(s), they will explain what you need bring to open your account. (generally just your articles of incorporation). I suggest interviewing at least 2 or 3 banks, to find the one that is best for your specific needs.
Be sure to be completely upfront, and ask plenty of questions about fees and possible issues you might face as a cannabis-based business.
A standard business bank account shouldn't be an issue, however finding a payment processor that won't charge outrageous fees might be trickier. Alterna Savings has been around since 2016, and worth looking into as a alternative to one of the big Canadian banks.
Step 6 – Register for GST and other Taxes
Now that you have your business registered, and your banking set — you'll need to register and prepare for any taxes applicable to your business.
At the federal level, registering for GST is a simple and can be done online, but some provinces (like BC) have a more integrated user-friendly interface that helps you navigate your provincial and federal taxes including payroll and registering employees, CPP, etc.
Step 7 – Secure Licenses & Insurance
Securing the right insurance, certifications and keeping within the legal federal, provincial & municipal cannabis frameworks can be a tall order but needs to be implemented.
As mentioned in Step 1, if you plan on cultivating, producing or packaging any cannabis products to sell or trade you will need to apply for a license under the federal Excise Act of 2001. Provincial regulations will dictate retail dispensary licensing, and local governments are an added layer of zoning regulations, permits, and insurance. (see appendix A for links to Provincial licensing info)
You might need to apply for certification through different standards and certifying bodies within Canada. In addition, your employees may need provincial cannabis certifications (more about that in the next section). Your local municipality is likely to have its own laws and zoning regulations.
Step 8 – Equipment, Location, Employees
Now that you've cleared the paper-work & red-tape side of starting a business, now it's time to concentrate on the physical bits; people, places and things. Some business will require a lot of equipment, while others require very little. Here are the most important things to keep in mind.
Location
Location, location, location is one of your most critical factors when it comes to business success. (unless you are an online business with no physical space needed other than your home office).
Your site selection will need to be based on federal and provincial cannabis laws, further to that, it would also need to be based on your cannabis license type. You may consider renting retail space or buy and build your own warehouse and these have different regulations per province.
Employees
Happy, productive employees are the biggest asset to your company but can also be a huge investment on your time when recruiting, hiring and training. As a business owner you need to be aware of employment equity, payroll, workplace safety and HR standards before hiring.
Many provinces have their own certifications for anyone that sells cannabis products directly to consumers. For example, in BC anyone working at a cannabis store must have a special "worker security verification" similar to liquor store employees.
In addition, it's worth looking at wage subsidies and other assistance programs to help you hire the right employees for your business through your local chamber of commerce.
Equipment & Supplies
Tracking down suppliers specific to cannabis can be tricky. Check in with small business resources like your local chamber of commerce, networking organizations, along with cannabis-specific trade organizations for recommendations.
Software
For online businesses, the software & digital services you choose will be an important factor.
For physical dispensaries, choosing a regulatory-compliant Point-of-Sale (POS) system is vital. Current options are limited to a handful of choices based on your location. Some companies offer all-in-one solutions for dispensaries with payment processing integration. Full list of Canadian dispensary POS software here.
Research your options early on to understand your choices and factor costs into your business plan and projections.
Step 9 – Marketing & Advertising
Marketing a cannabis business is vital, and market research should be a big part of your business plan and initial research. Understanding how online cannabis advertising works, and where & how much you should expect to pay are needed for your business plan cost projects are important starting points.
It's also imperative to understand cannabis advertising rules and regulations, especially how to stay within the promotion guidelines of the Cannabis Act.
Advertising Restrictions for Cannabis
Canada has tighter advertising restrictions for Cannabis brands and retailers than the United States, keep this in mind during your research.
Before you even choose your business name, or get a logo design; you should understand these restrictions:
No mascots, celebrity endorsements or anything that makes cannabis seem cool. (seriously)
No advertising to minors or even displaying the cannabis products without an age verification.
No showing consumption of the product.
No health or medical claims.
No using consumer testimonials or endorsements.
Packaging: follow the above guidelines, but also keep in mind there are additional guidelines and restrictions specific to packaging and branding.
Also see this guide & check with your province (links below) for local cannabis-specific marketing regulations.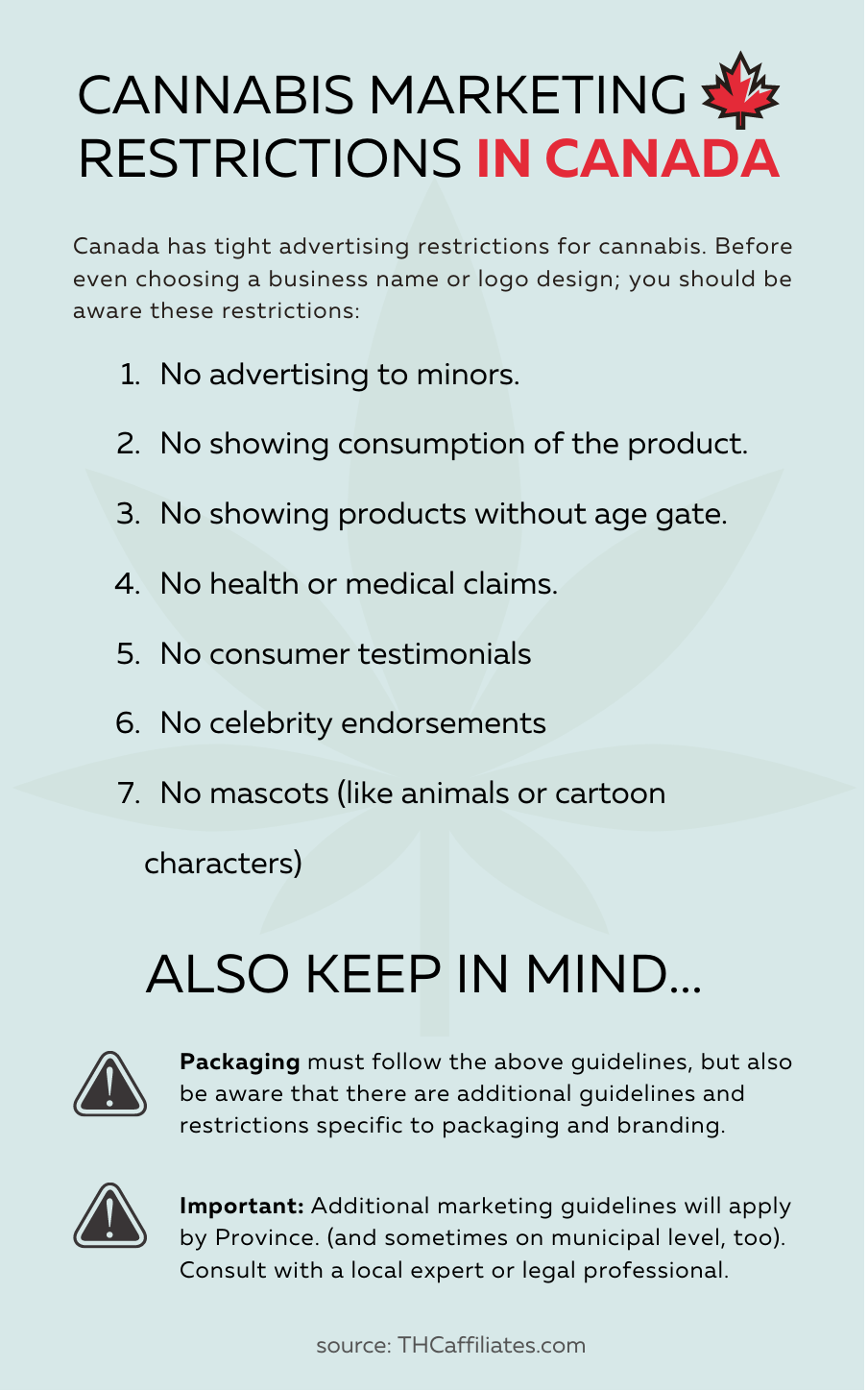 If marketing isn't a strength or interest, brand development can be contracted out to cannabis marketing agencies and advertising networks. Choose a Canadian-based, Cannabis-specific agency or consultant — as they will also have the tools and know-how to market your product into the right channels while staying compliant.
Also see our guide to finding and hiring cannabis creatives, experts and freelancers.
Step 10 – Maintaining & Planning for Growth
Dotting your i's and crossing your t's. Staying within in regulations, updating permits and filing annual tax returns go without saying, but planning for future growth should be an important part of your business plan.
You might start by looking at simple ways to expand your business such as increasing productivity, hiring new staff, expanding geographically, or developing a new products.
Good Luck! (and next steps)
A little bit of luck can go a long way. But, mostly planning ahead and doing hard research before starting will be the biggest factor in setting a new business up for success. After following these steps you will be well on your way to running your own cannabis business.
You may consider printing and using this article as an outline to setting up your business and getting off the ground with well-thought out planning and strategies.
Not sure where to start? Check out our growing list of cannabis business ideas to help jump-start your brainstorm.
Appendix A, Provincial Licensing
Ontario – The ACOG oversees the retail side of Cannabis licensing, compliance and provincial retail regulations. In order to operate a cannabis retail store in Ontario, businesses apply for a Retail Operator Licence (as an individual) and a Retail Store Authorization (for each retail location you intend to open.)
British Columbia – The LCRB manages licensing and monitoring of cannabis retailers. Application documents are organized neatly online. Application fee for a dispensary in BC is $7500.
Alberta – The AGLC oversees retail licensing. In order to apply, dispensary hopefuls must first obtain municipal approval. Full details on their website.
Saskatchewan – The SLGA manages cannabis permits and licensing provincially, and is currently accepting cannabis retail store permit applications for communities of fewer than 2,500 people only.
New Brunswick – Currently, only the provinces themselves are operating dispensaries and not offering private dispensary licenses.
Quebec – Currently, all recreational cannabis stores in Quebec are government run.
Questions? Comments? Please let us know!
Cannabis Business Owner or Publisher?
Join our Newsletter!
Subscribe to our Cannabis B2B Newsletter below and never miss the latest news & tools to help your grow & promote your business or cannabis-related website.