Which countries and states have legalized recreational marijuana, and which are the most likely to do so in the near future? Find out here.
World Map of Cannabis Legal Status
Countries, where recreational use is legal include Uruguay (2013) Canada (2018),  South Africa (2018) and Georgia (2018). 
Last update: Sept 15, 2020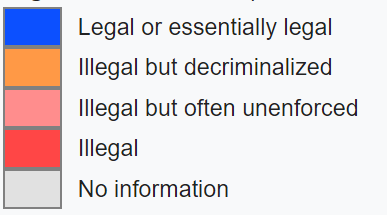 Cannabis laws are rapidly changing, though I aim to keep this page updated regularly, for the latest information, please check in with me on twitter @thcaffiliates
United States of America
The medical use of cannabis is legal in 33 states, and legal or decriminalized for recreational use in 22 states. More states are expected to pass recreational legislation in the next few years including Arizona.
Recreational Cannabis use is legal in 11 states: Alaska, California, Colorado, Illinois, Maine, Massachusetts, Michigan, Nevada, Oregon, Vermont, and Washington), plus DC, the Northern Mariana Islands, and Guam.
Decriminalized in 16 states including: Connecticut, Minnesota, Missouri, North Carolina, Maryland, Delaware, Illinois, Ohio, Rhode Island, Nebraska, Mississippi, New York, and New Hampshire.
CBD and hemp are legal on national level with the 2018 Farm Bill. CBD products are widely available.
Canada
The recreational use of marijuana has been legal in Canada since October 17, 2018, when it was signed into legislation under the Trudeau government.
The Cannabis Act is the national legal framework of Canadian Cannabis regulations for consuming, growing, producing; while the individual Provinces & municipalities control retail and local bylaws.
Canada & CBD products – something important to note about Canada vs US is that CBD products are regulated strictly in Canada (more like medicine) vs in the United States.
In the US, celebrities like Tommy Chong and Martha Stewart have their own CBD brands, and you can buy every form of CBD imaginable from grocery stores, or even 7-11s. While in Canada, CBD products are only available from licensed dispensaries and much rarer overall.
Also, Canada has much stricter marketing guidelines: no celebrity endorsements, no logos, no making any cannabis product seem cool. (Canada's tobacco marketing laws are also very strict).
For more info about Canadian cannabis regulations and how they affect businesses, see our guide on starting a cannabis business in Canada.
Uruguay
Uruguay was the first country to legalize recreational cannabis use. President Jose Mujica signed legislation that legalized recreational cannabis in December 2013.
Editors note: I spent time in Uruguay in 2019 and plan on going back. Cannabis is not easy to purchase legally compared to Canada or legal US States. It's sold at pharmacies, requires registration (easy, but not available to tourists), and the pharmacies are often sold out. However, if available it is cheap. The grey market is still the main source of recreational cannabis.
I was told that the pharmacies, in general have two kinds available sold like "regular" vs "medical".
Which Countries Will Legalize Marijuana Next?
Rumor has it these countries are the most likely countries to legalize next…
Mexico
Mexico has decriminalized private consumption and possession for small amounts of marijuana (5 grams or less), and medical low-THC / CBD cannabis is has been legal as of 2017.
In late 2018, Mexico's supreme court ruled the prohibition of unconstitutional. However cannabis in general, is still illegal in Mexico. (sources: WayofLeaf, Wikipedia)
United Kingdom
While cannabis is illegal, medical cannabis has had growing support in the UK over the last decade. Medical-use with licensing has been permitted since Nov. 2018.
Conclusion and Further Reading
Did I miss something? Has something changed and I haven't updated yet? Please comment below or get in touch on twitter. Thanks!