Which countries and states have legalized recreational marijuana, and which are the most likely to do so in the near future? Find out here.
Recreational cannabis use is legal and regulated in Uruguay (2013) and Canada (2018). There are also many countries where cannabis use has been decriminalized such as Jamaica, South Africa, Georgia, Mexico and the Netherlands.
Here are a few helpful maps showing where in the world weed is legal, followed by a detailed breakdown of the the United States and other countries.
Last update: Nov 10, 2022
World Map of Cannabis Legal Status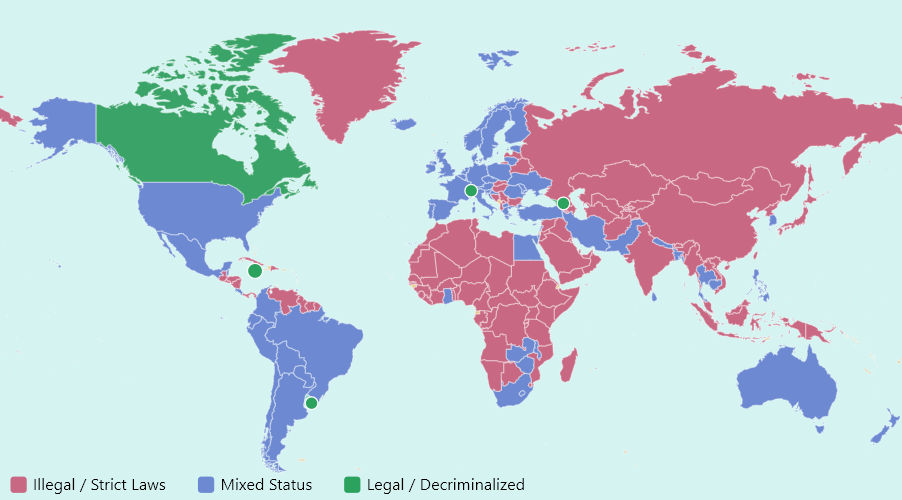 Cannabis laws are rapidly changing, though I aim to keep this page updated regularly, for the latest information, please check in with me on twitter @thcaffiliates
United States of America
In the United States, cannabis is still illegal at the federal level — but many individual states have passed recreational marijuana laws.
The medical use of cannabis is legal in 37 states, and weed is legal or decriminalized for recreational use in 32 states. More states are expected to pass recreational legislation in the next few years including New York.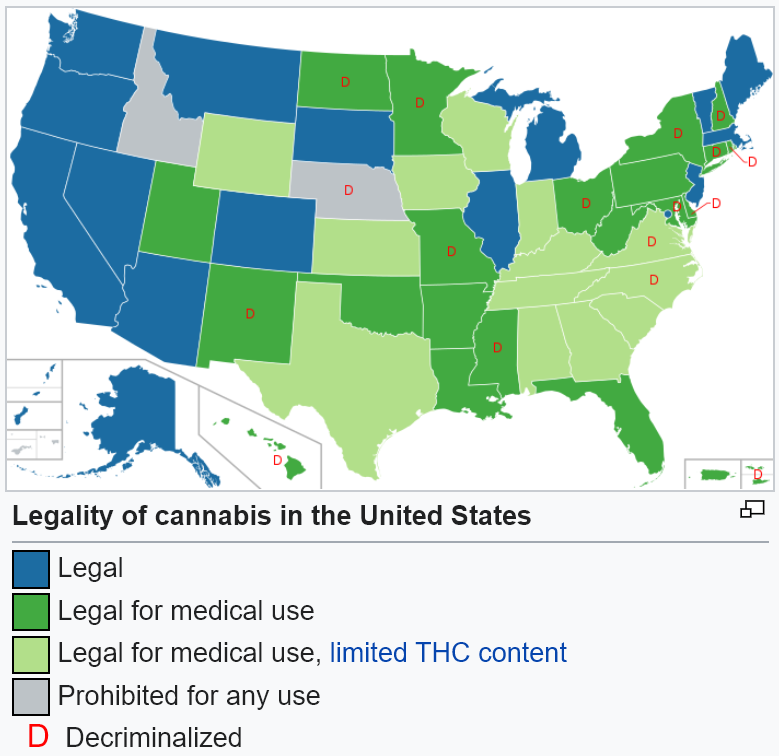 So, where is weed legal in the states?
Recreational Cannabis use is legal in 20 states: Alaska, Arizona, California, Colorado, Connecticut, Illinois, Maine, Maryland, Massachusetts, Michigan, Montana, New Jersey, New Mexico, New York, Nevada, Oregon, Rhode Island, Vermont, Virginia, and Washington), plus DC, the Northern Mariana Islands, and Guam.
Here's a timeline of when each state legalized recreational marijuana:
Colorado: Legalized in 2012

Washington: Legalized in 2012
DC: Legalized in 2014
Alaska: Legalized 2014
Oregon: Legalized in 2014 (In 2020, Oregon became the first state to legalize access to magic mushrooms)
California: Legalized in 2016
Maine: Legalized in 2016
Massachusetts: Legalized in 2016
Nevada: Legalized in 2016
Michigan: Legalized in 2018
Illinois: Legalized in 2019
Arizona: Legalized in 2020
Montana: Legalized in 2020
New Jersey: Legalized in 2020
Vermont: Legalized in 2020
Connecticut: Legalized in 2021
New Mexico: Legalized in 2021
New York: Legalized in 2021
Virginia: Legalized in 2021
Rhode Island: Legalized in 2022
Maryland: Legalized in 2022
Decriminalized in 12 states including: Minnesota, Missouri, North Carolina, Delaware, Illinois, Ohio, Rhode Island, Nebraska, Mississippi, and New Hampshire and North Dakota.
CBD and hemp are legal on national level with the 2018 Farm Bill. CBD products are widely available.
Canada
The recreational use of marijuana has been legal in Canada since October 17, 2018, when it was signed into legislation under the Trudeau government.
The Cannabis Act is the national legal framework of Canadian Cannabis regulations for consuming, growing, producing; while the individual Provinces & municipalities control retail and local bylaws.
Canada & CBD products – something important to note about Canada vs US is that CBD products are regulated strictly in Canada (more like medicine) vs in the United States. In the US, celebrities like Tommy Chong and Martha Stewart have their own CBD brands, and you can buy every form of CBD imaginable from corner stores. But in Canada, CBD products are only available from licensed dispensaries and much rarer overall.
Also, Canada has much stricter cannabis advertising & marketing guidelines: no celebrity endorsements, no logos, no making any cannabis product seem cool. (Canada's tobacco marketing laws are also very strict).
For more info about Canadian cannabis regulations and how they affect businesses, see our guide on starting a cannabis business in Canada.
Uruguay
Uruguay was the first country to fully legalize recreational cannabis use. President Jose Mujica signed legislation that legalized recreational cannabis in December 2013.
Editors note: I spent time in Uruguay in 2019 and plan on going back. Cannabis is not easy to purchase legally compared to Canada or legal US States. It's sold at pharmacies, requires registration (easy, but not available to tourists), and the pharmacies are often sold out. However, if available it is cheap. The grey market is still the main source of recreational cannabis.
I was told that the pharmacies, in general have two kinds available sold like "regular" vs "medical".
Jamaica
Jamaica is commonly associated with marijuana, but the country didn't decriminalize weed until 2015. Although cannabis is still illegal, possession under 2 ounces for personal use is decriminalized (though small fines might be issued). Medical marijuana is available and Rastafarians are allowed to possess and use marijuana for religious ceremonies.
Europe
European countries have varying laws concerning marijuana.
In the Netherlands, people have been selling marijuana in coffee shops since the 1970s. Marijuana use is decriminalized, but citizens must not cause a disturbance while under the influence, and businesses can not sell more than five grams of marijuana to a customer at a time.
Marijuana laws are relaxed in Portugal, and those who are charged with marijuana possession more than once will likely receive rehab instead of jail time.
In Spain, individuals can not use marijuana in public without being fined. Most people in Spain who use marijuana do so privately, and have formed social clubs as a way to avoid using marijuana in public.
France has strict but changing marijuana laws. People who are caught consuming marijuana could receive spot fines, might be required to take a drug awareness class and could spend up to a year in prison (though jail time is rare). However, France is also piloting a medical cannabis program giving patients free marijuana starting in March 2021.
Medical marijuana has been legal in Germany since 2017. Individuals who are unauthorized to possess or use marijuana are not likely to face jail time if they only have a small amount.
Which Countries Will Legalize Marijuana Next?
Which Countries Will Legalize Next? South Africa, Mexico, and Israel are the most likely choices according to a recent (Jan 2021) High Times article. However, Switzerland should be added to that list – as they will trial recreational marijuana this year. And Israel has had some setbacks to legalization. Here's more details these countries most likely places to legalize next…
Switzerland
Since 2012, possession of 10 g or less is decriminalized to a fine — and in recent years have been making strides towards more robust legalization.
Switzerland officially launched a trial version of a legal recreational marijuana market on May 15, 2021. This made Switzerland the first European country to allow a legal adult-use cannabis supply chain. Details of trial here.
Mexico
Update: As of June 2021, cannabis is legal for private, recreational use in Mexico.
Previously, Mexico decriminalized private consumption and possession for small amounts of marijuana (5 grams or less), and medical low-THC / CBD cannabis is has been legal as of 2017.
In late 2018, Mexico's supreme court ruled the prohibition of unconstitutional. However cannabis in general, is still illegal in Mexico. (sources: WayofLeaf, Wikipedia)
United Kingdom
While cannabis is illegal, medical cannabis has had growing support in the UK over the last decade. Medical-use with licensing has been permitted since Nov. 2018.
FAQ
Where is cannabis legal?
Recreational cannabis use is legal or decriminalized in Uruguay, Canada, South Africa, Georgia and Mexico. In the United States, while still illegal on a national-level, recreational marijuana use is legal (or decriminalized) in over 30 states and most states allow some form of medicinal use. (hemp, CBD and non-THC marijuana products are legal in the USA since 2018.)
Where is medicinal cannabis legal?
Beyond Uruguay, Canada, South Africa and Georgia — there are a few dozen countries that allow cannabis for medicinal purposes: Argentina, Australia, Barbados, Bermuda, Brazil, Chile, Colombia, Croatia, Cyprus, Czech Republic, Denmark, Ecuador, Finland, Georgia, Germany, Ghana, Greece, Ireland, Israel, Italy, Jamaica, Lebanon, Lithuania, Luxembourg, Malawi, Malta, Mexico, Netherlands, New Zealand, North Macedonia, Norway, Peru, Poland, Portugal, Saint Vincent and the Grenadines, San Marino, Sri Lanka, Switzerland, Thailand, United Kingdom, Vanuatu, Zambia, Zimbabwe.
Which US states have legalized weed?
States that have passed recreational cannabis legislation include Alaska, Arizona, California, Colorado, Illinois, Maine, Maryland, Massachusetts, Michigan, Montana, New Jersey, Nevada, Oregon, South Dakota, Vermont, and Washington –plus DC, the Northern Mariana Islands, and Guam.
Additionally, the following states have passed some cannabis decriminalization reforms; Connecticut, Minnesota, Missouri, North Carolina, Maryland, Delaware, Illinois, Ohio, Rhode Island, Nebraska, Mississippi, New York, and New Hampshire.
It's important to note that marijuana remains an illegal substance federally.
When will cannabis be federally legal in the USA?
Update Dec 06, 2020 – Although the MORE Act (Marijuana Opportunity Reinvestment and Expungement Act), which decriminalizes cannabis and expunges non-violent cannabis convictions was passed by the House on Dec 4, 2020 — the majority Republican Senate is not expected to pass the bill.
However, this is the closest the United States has ever been to decriminalizing marijuana on a national level, and cannabis advocates are hopeful for 2023.
Which countries have the strictest cannabis laws?
Malaysia arguably has the strictest cannabis laws. Residents who are found with 200 grams or more of marijuana may receive the death penalty.
Singapore has very strict marijuana laws, as well. Citizens and visitors are not even allowed to chew gum there. According to Singapore's Misuse of Drugs Act, the burden of proof is the responsibility of the defendant. Anyone caught with weed in the country will most likely be penalized.
In the United Arab Emirates, you could face up to four years in prison authorities find even a trace of marijuana on your person or property.
Is cannabis legal in Japan?
While CBD products are legal and growing in popularity, THC is still 100% illegal in Japan. Under Japan's Cannabis Control Act, cannabis possession can result in up to five years in jail and a fine of up to $18,000.
Is cannabis legal in Australia?
In Australia – medical use of cannabis is legal, and recreational use mostly decriminalized. In 2019, the Australian Capital Territory legalized recreational use of cannabis. Like the United States — regions in Australia have their own local cannabis legislation.
Sources
Conclusion and Further Reading
Did I miss something? Has something changed and I haven't updated yet? Please comment below or get in touch on twitter. Thanks!
This work is licensed under a
Creative Commons Attribution-ShareAlike 4.0 International License
.