On this page you'll find the latest cannabis packaging and labeling guidelines for individual States (and Canada), important considerations, and list of wholesale suppliers & labeling services for marijuana.
Packaging and Labeling Regulations
It can be difficult to understand what is required for cannabis packaging and labels, especially if you want to sell in multiple geographies. Here is a quick overview to help get you get orientated.
Universal requirements generally require cannabis packaging to be:
• Tamper evident
• Child-resistant
• Resealable (If it has multiple uses)
But, those are just the basics. Each country and state have their own regulations with specific packaging and labeling guidelines for cannabis products. Many require plain packaging and have restrictions on design.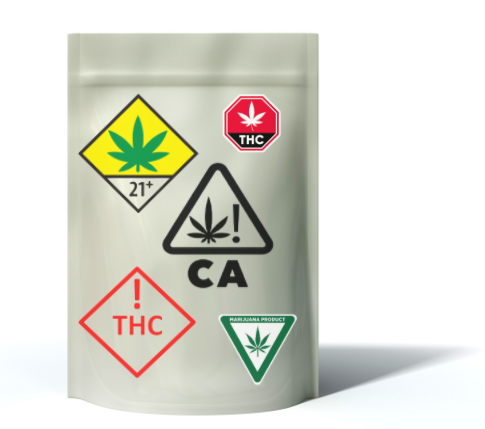 Most states (and Canada) have prohibitions against anything remotely resembling marketing to children.
For example Nevada prohibits marijuana products in any form that:
(a) Is or appears to be a lollipop or ice cream;
(b) Bears the likeness or contains characteristics of a real or fictional person, animal or fruit, including, without limitation, a caricature, cartoon or artistic rendering;
(c) Is modeled after a brand of products primarily consumed by or marketed to children.
I've linked to live government web pages & portals that link to regulations (rather than linking directly to static PDFs) when available. This should make it easier to track down the latest updates.
USA Cannabis Packaging and Labeling
With federal prohibition, there are no federal regulations on recreational marijuana packaging. Which means cannabis companies need to look to their individual states for guidance.
State by State Regulations
Most states require specific language and unique warnings on cannabis labels. Unfortunately, these can be hard to track down, so I've created this list to help:
Canada Cannabis Packaging and Labelling
Canadian regulations are much stricter compared to most legal US states. Canadian licensed cannabis products require plain packaging and labelling with strict restrictions on logos, colors, and branding.
"Cannabis products must be in packaged in a child-resistant container and be labelled with the standardized cannabis symbol, the mandatory health warning message, and include specific product information…"

Health Canada
For full details see: Canada Packaging and Labelling Guide – From Health Canada.
Cannabis Packaging and Labeling Services
Sourcing compliant packaging for cannabis & CBD products can be difficult. Here is a list of manufactures and retailers of commercial cannabis packaging and labelling for growers and dispensaries.
DisoSupply – Specializes in custom retail packaging for cannabis bags, jars, cans, tubes, cones and more. Easy to use interface let's you add your own logos and information and order directly online. Ships globally.
MJ Wholesale – Wholesale supplier for dispensaries, head shops, processors, and growers. Offers wholesale pricing on mylar bags, containers & processing supplies.
Cannasupplies – Cannabis packaging and labelling for Canadian producers. One of the main suppliers of child-resistant cannabis retail packaging for Canadian licensed producers.
Chubby Gorilla – Innovative Child-resistant packaging engineered for cannabis producers. Liquid bottles in 12 sizes, customizable, and CR solid goods packaging including tubes in a variety of sizes and colors. They have online distributors in the US and internationally, you can find a list those providers here.
GrowAce – Not retail packaging, but storage and containers for growers. Including vacuum sealers and bags, drying desiccant packs, bake bags, dry and mighty bags in retail and wholesale quantities. US based, ships internationally.
Mylar Shop UK – Specializes in Mylar bags and oxygen absorbers with speedy shipping within the UK and also ships to Europe, Canada, USA, Australia and many other countries.
Best Practices for Packaging and Labeling
Instead of only focusing on the state you are in, I suggest looking over various state regulations — especially early adopters like California and Colorado which have often more strict & specific requirements to use as guideposts for how newly legal states are likely mimic as their recreational programs mature.
Final thoughts and things to keep in mind:
Marijuana laws and regulations are changing rapidly.

Recreational marijuana packing and labelling requirements are often different from medical marijuana
CBD packaging and labelling has different requirements vs recreational cannabis.
Read and understand the applicable labeling guidelines before investing in branding and design for your cannabis products!
Conclusion
Although I try to maintain this page with latest news and links, if I've missed something — please comment to let me know. Thanks!
Articles of interest: