This is a growing list of affiliate programs and advertising networks with cannabis-related goods and services. If you publish a website and are looking for an extra income, or you are a full-time digital marketer, I think you will find this list useful.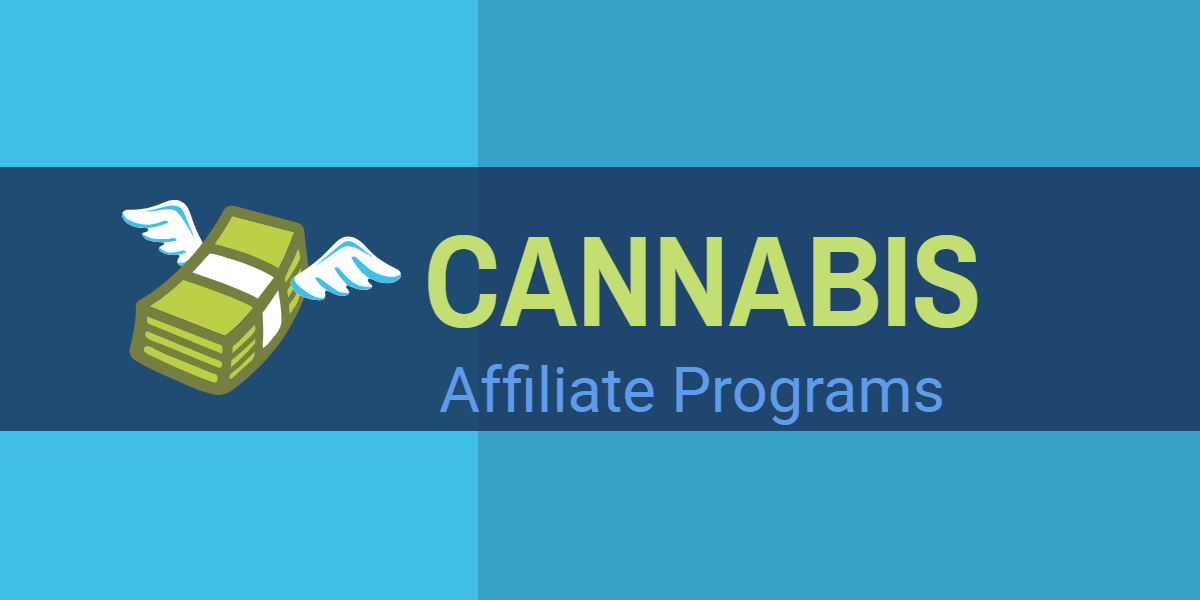 With hemp, CBD and other cannabis products becoming legal, it's a great time to get your foot in the door. The legal weed & CBD industry is going to be a major cash cow for decades to come.
It's exciting to be apart of the ground floor. One way to do so, without much investment, is by affiliate marketing. This is where you promote other people's projects & services and receive a commission.
Below you'll find our round-up of the most well-known cannabis-related affiliate programs. Affiliate programs are like referral programs. You get paid a percentage (or sometimes a flat-rate) of sales referred to a merchant.
Growing and Smoking Accessories
Grasscity.com Tiered Referral Program
Grasscity.com – Large online headshop and magazine. Bongs, Bubblers, Vaporizers and much more.
Smoke Cartel Affiliate & Referral Program (USA)
SmokeCartel.com – Hip bongs, vapes and other smoking accessories.
7% on sales with 7-day cookie
Also has a refer-a-friend program
Super Closet Growing Equipment
Super Closet – Grow box kits and other growing equipment.
10% paid on sale. Claims average commission of $200.
Program via Shareasale
Namaste Vapes
Namaste Vapes – Vaporizers and other smoking accessories
Base Commission: 10-15% per sale
Program via Shareasale
Cannabis Education & Courses
GreenCulturED Online Cannabis Certifications and Courses
Greencultured.co – Offers a variety of certifications and training related to cannabis industry. Founded in 2012 and based in Colorado.
60% commission on most courses
Lots of affiliate resources, worth checking out
Growing Elite Marijuana Affiliate Program
HowtoGrowWeed420.com – Course on Growing Marijuana, eBook & membership. (hardcover version available as well, but via amazon)
Pay-Per-Sale 57% for each sale you deliver. ( About $30/sale)
Payments made once per month, for the previous month. Lots of marketing materials.
THC University Affiliate Program
THC University.org – Offers courses on cultivation and beyond.
For serious marijuana entrepreneurs. Certified classes start at $50
$25 per student sign up, Monthly payouts, and 30-day cookie
Mail Order Marijuana Affiliate Programs (MOMs)
Green Society Referral Program
GreenSociety.ca – Mail Order Marijuana. Buy Weed Online in Canada
Hard to find published details of their affiliate program. But, will add details when I have it.
WeedSmart Referral Program (Canada)
WeedSmart.ca – One of Canada's premier Mail Order Marijuana dispensaries.
For each referral that spends over $200, they offer $20 that you can use towards your next purchase.
True affiliate program coming soon.
Buds2Go Affiliate Program (Canada)
Buds2Go.ca – Canadian online dispensary
10.00% of each completed sale, pre-tax
Cannabismo Referral program (Canada)
Cannabismo.ca – Not a true affiliate program. But, for each referral, you earn $20 store credit.
Seed Affiliate Programs
Seedsman Cannabis Seeds Affiliate Program
Seedsman.com – For high quality recreational and medicinal strains.
Pays 15% commission with 60-day cookies.
5% for referred affiliate sales
Pays by wire or Paypal. Minimum payout is $100.
Crop King Seeds Affiliate Program
Cropkingseeds.com – Canadian seed company with pre-fem-auto and dwarf varieties.
Pay-Per-Sale 20% for each sale you deliver. (5% on sub-affiliates)
$200.00 USD – Minimum balance required for payout.
MMJ Cards and Services
Dr. Weedy Affiliate Program
Dr. Weedy.com – Medical MMJ Card Affiliate for California and New York.
Pays 10% on referred orders.
CBD and Health Products
Savage CBD Affiliate Program
Savage CBD – CBD edibles, oils, lotions, cartridges and other vaping accessories.
Earn 35% when customers purchase using your referral link
90 day cookies
Share this coupon code: THC15
CBD Pure Tiered Affiliate Program
CBD Pure – CBD oil
40% commission on sales +5% on sub-affiliate referrals
Canna Trading
CannaTrading – CBD oil, tinctures and vape products.
Vitalized Hemp
Vitalized Hemp – Hemp Extracts and Tinctures
25% Commission. 60 Day cookie.
Pet Health CBD
PetHealthCBD – Pet CBD supplies.
25% Commission. 60 Day cookie.
NotPot CBD Supplements
NotPot CBD Gummies – Vegan CBD supplements.
Kraken Kratom Affiliate Program
Kraken Kratom – 10% Pay-per-Sale for the first order of a customer
Advertising networks with Cannabis Merchants
Shareasale.com – Shareasale is probably the longest running/most reputable affiliate network that supports some cannabis-related merchants.
If you don't already have an affiliate account with Shareasale, you'll need to sign for one before you can access the affiliate programmers for these merchants:
And if you are a merchant, and looking to reach a wider base of publishers and affiliates – you should check out Shareasale's merchant services.
Clickbank Affiliate Network
Clickbank – Clickbank is another longtime affiliate network that has some Cannabis-related information products.
CJ Affiliate Network
CJ.com has jumped onboard and now has a few dozen CBD and vaping merchants. If you aren't already a CJ affiliate, it's worth signing up as they are one of the biggest & oldest networks around.
Have a Suggestion?
Please leave a comment below if you have a recommendation for a program that we missed. If it seems legitimate, I'll add it to this page.
Something broken? Please comment below and I'll aim to fix asap.
Thanks!
Last update: January 1, 2020