This is a growing list of affiliate programs and advertising networks with cannabis-related goods and services. If you publish a website or have a social media following and are looking for an extra income, I think you will find this list useful.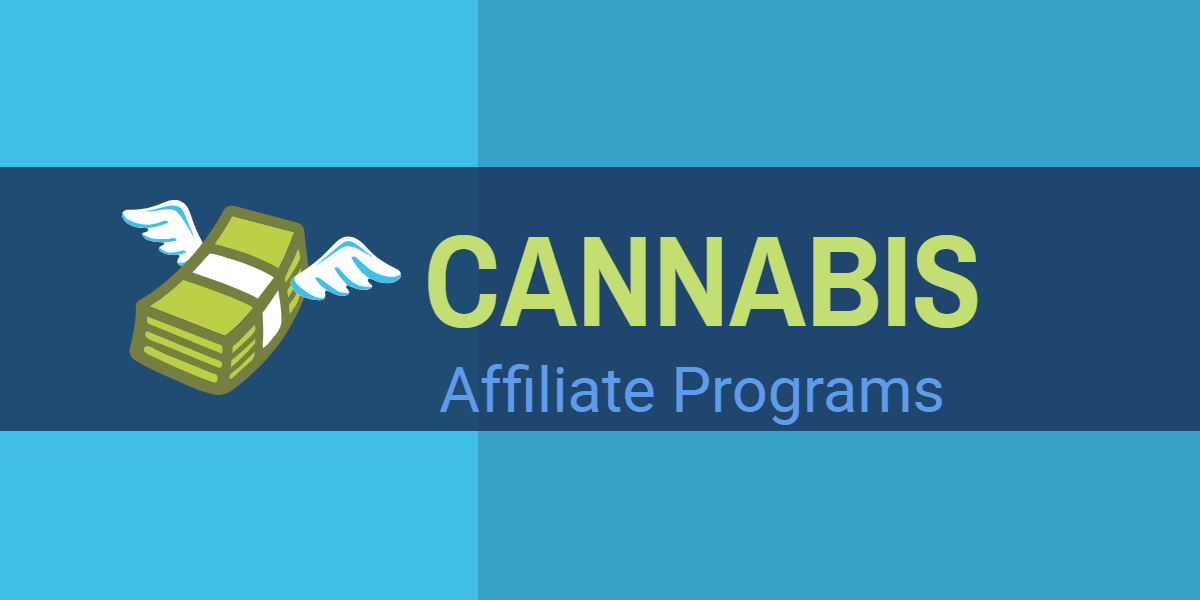 Now that hemp, CBD and other cannabis products are becoming legal in the parts of the US, Canada, Uruguay, South Africa and other countries it's a great time to get your foot in the door. The legal weed & CBD industry is going to grow for decades to come.
It's exciting to be a part of such a new industry. There are many cannabis-related business opportunities to consider, and one without much investment, is by affiliate marketing. This is where you promote other people's products & services and receive a commission.
Below you'll find our round-up of the most well-known cannabis-related affiliate programs. Affiliate programs are like referral programs. You get paid a percentage (or sometimes a flat-rate) of sales referred to a merchant.
Last update: Aug 7th, 2020
Advertising and Affiliate Networks with Cannabis Merchants
Affiliate Networks connect advertisers (merchants) with affiliates (publishers, content creators, etc). These networks give you access to a huge range of products and services. (also see amazon alternatives)
ShareASale Advertising Network
Shareasale.com – Shareasale is probably the longest running/most reputable affiliate network that supports some cannabis-related merchants.
If you don't already have an affiliate account with Shareasale, you'll need to sign for one before you can access the affiliate programs for these merchants:
CBD Dog Health – 10% Commission. 60 Day cookie. Stats on Shareasale look promising. I like the landing pages (for example: CBD for cat seizures) and think this would convert well.
Diamond CBD – features celebrity CBD brands with nice landing pages including Tommy Chong's brand of gummies and oils.
EveryoneDoesIt – Calls itself the worlds one-stop, online smoke shop. Large selection of bongs, pipes, vaporizers and all manner of other smoking accessories. Default commission is 10%. Has a product datafeed.
GreenGoddessSupply – Popular smoke shop with wide range of merchandise including glass, grinders, vapes and various bundles (great gift ideas). The commission is 10-18% depending on volume.
Avid Hemp – Wholesale CBD with affiliate program
NotPot CBD Gummies – Vegan CBD supplements.
…and dozens more.
Also see their page builder tool to set up mini-shops with minimal effort, here's an example with CBD & growing accessories.
And if you are a merchant, and looking to reach a wider base of publishers and affiliates – you should check out Shareasale's merchant services.
CannAffiliate Network
CannAffiliate is a cannabis-only affiliate network driving online sales to dispensaries, CBD brands and other cannabis products and services including:
Dr. Dabber – High-end vaporizers. 10% commission on sales. Well-known brand worth looking at.
SplitBud – Online dispensary and delivery services for Los Angeles, CA area. Pays $50 CPA for new sign-ups.
Crescent Canna – Organic USA-grown CBD isolate drops. 30% commission
Clickbank Affiliate Network
Clickbank – Clickbank is another longtime affiliate network that has some Cannabis-related information products.
CJ Affiliate Network
CJ.com now has a few dozen CBD and vaping merchants including:
JustCBD – CBD gummies, bath bombs, protein bars, isolate and other unique items like CBD honey sticks and infused coconut oil. 18% commission
AirVape USA – 15% commission on sales. Wholesale and dropshipping available.
If you aren't already a CJ affiliate, it's worth signing up as they are one of the biggest & oldest networks around.
Growing and Smoking Accessories
Super Closet Growing Equipment
Super Closet – Grow box kits and other growing equipment, including very high-end grow system kits and LED lighting. Made in California, USA and ships world-wide.
10% paid on sale. Boasts average commission of $200.
Deep linking and datafeed available.
Program via Shareasale
Namaste Vapes
Namaste Vapes – Vaporizers and other smoking accessories
Base Commission: 10-15% per sale
Program via Shareasale
Grow Kits by A Pot for Pot
APotforPot.com – Micro-grow kits with everything included for under $100.
Grasscity.com Tiered Referral Program
Grasscity.com – Large online headshop and magazine. Bongs, Bubblers, Vaporizers and much more.
Cannabis Education & Courses
THC University Affiliate Program
THC University.org – Offers courses on cultivation and beyond, including a growing course by Jorge Cervantes (his books are my fav)!
For serious marijuana entrepreneurs. Certified classes start at $50
$25 per student sign up, Monthly payouts, and 30-day cookie
GreenCulturED Online Cannabis Certifications and Courses
Greencultured.co – Offers a variety of certifications and training related to cannabis industry. Founded in 2012 and based in Colorado.
60% commission on most courses
I send a lot of traffic, but have only ever had one sale. Not sure why they are unable to convert this year.
Growing Elite Marijuana Affiliate Program
HowtoGrowWeed420.com – Course on Growing Marijuana, eBook & membership. (hardcover version available as well, but via amazon)
Pay-Per-Sale 57% for each sale you deliver. ( About $30/sale)
Payments made once per month, for the previous month. Lots of marketing materials. (editor note: I've yet to make a commission)
Seed Affiliate Programs
ILGM Seed Affiliate program
Ilovegrowingmarijuana.com– Lots of resources & educational materials for affiliates. ILGM offers premium feminized, autoflowering, hemp seed and more. Ships to Australia, New Zealand, USA, and the UK.
20% on sales, 90 day cookies
2nd tier referrals earn 25% of sub affiliate commissions
deep links are easy to create
Seedsman Cannabis Seeds Affiliate Program
Seedsman.com – Seeds, CBD and Wholesale / B2B. Multiple sites under one affiliate program. One of the better converting seed aff programs in the past year for me, at least for my 2nd tier sign-ups.
Pays 15% commission with 60-day cookies.
5% for referred affiliate sales
Pays by wire or Paypal. Minimum payout is $100.
The Vault Cannabis Seeds Store
Cannabis-seeds-store.co.uk – The Vault is a seed bank featuring a huge range of breeders. Bitcoin accepted. Worldwide shipping.
10% for each and every sale you deliver + 10% 2nd tier
affiliate sign up bonus
Crop King Seeds Affiliate Program
Cropkingseeds.com – Canadian seed company with pre-fem-auto and dwarf varieties. Though I am a customer, I've never made a single sale as an affiliate. So far, I think their affiliate program sucks. (great seeds though!)
Pay-Per-Sale 20% for each sale you deliver. (5% on sub-affiliates)
$200.00 USD – Minimum balance required for payout.
Mail Order Marijuana Affiliate Programs (MOMs)
It seems like buying cannabis online is likely to be a growing industry for the months and years to come. Here a online dispensaries with affiliate and referral programs.
Speed Greens (Canada)
Speedgreens.co – Large selection from bargain to top-shelf flower and extracts. Fast shipping within Canada.
pays 10% commission on sales
Cannabismo Referral program (Canada)
Cannabismo.ca – Not a true affiliate program. But, for each referral, you earn $20 store credit. not working.
SplitBud Dispensary (USA)
SplitBud.com – Online dispensary of flower, edibles and more. Currently only available in California, USA.
Pays $50 CPA for new sign-ups.
30-day cookies
MMJ Cards and Services
Dr. Weedy Affiliate Program
Dr. Weedy.com – Medical MMJ Card Affiliate for California and New York.
Pays 10% on referred orders.
Note: tracking is very minimal, and doesn't even report traffic. not sure if legit.
CBD and Health Products
New: see the full list of CBD affiliate programs, wholesalers, dropshippers & white / private label suppliers.
Diamond CBD Affiliate Program
Diamond CBD – features celebrity CBD brands with nice landing pages including Tommy Chong's brand of gummies and oils, and Lawrence Taylor's CBD rub.
Pays 30.00% commission
90 day cookies
Savage CBD Affiliate Program
Savage CBD – CBD edibles, oils, lotions, cartridges and other vaping accessories.
Earn 35% when customers purchase using your referral link
90 day cookies
Share this coupon code: THC15
CBD Pure Tiered Affiliate Program
CBD Dog Health
CBD Dog Health – 10% Commission. 60 Day cookie. Stats on Shareasale look promising.
10% Commission. 60 Day cookie.
NotPot CBD Supplements
NotPot CBD Gummies – Vegan CBD supplements.
Kraken Kratom Affiliate Program
Kraken Kratom – 10% Pay-per-Sale for the first order of a customer
More Resources for Affiliates
Tools for Affiliates – Growing list of website services, including the one's I use on this site or on my other projects.
Example Affiliate Product Page – This was a *very* quick example of products from various affiliates. It is both an example and an experiment — I'm curious if it will get any traffic or sales.
Full list of CBD affiliate programs, – plus wholesalers, dropshippers & white / private label suppliers.
Amazon Associates Alternatives – Resource for cannabis-related websites that are disappointed with dwindling Amazon commission rates.
Advertising disclosure: This page is user supported by affiliate links. This means if you make a purchase through links on this site, I might receive a commission. If you sign up as an affiliate & customers purchase from you — I also receive a (small) commission. I call this magic money. Please click, share & create magic. Thanks!
Have a Suggestion?
Please leave a comment below if you have a recommendation for a program that we missed. If it seems legitimate, I'll add it to this page.
Something broken? Please comment below and I'll aim to fix asap.
Thanks!