Guide to Online & Offline Marketing for Cannabis Dispensaries
Manage a cannabis dispensary and want to attract new consumers? Cannabis marketing and advertising can be more difficult compared to other retailers, but you still have options.
In this guide, we'll look at both traditional and online marketing strategies, plus offer pointers to help you develop a successful approach. Continue reading, or use the table of contents to skip ahead:
Even in states where marijuana is legal, dispensaries have fewer choices for advertising their products. Despite the obstacles, marketing is still essential for any cannabis retailer looking to expand its customer base.
Offline Marketing Strategies
This section focuses the best offline marketing techniques for your cannabis business. We'll go over how to establish a local presence, build & maintain customer relationships, and employ traditional print and broadcast media.
Signage and Outdoor Cannabis Marketing
Cannabis dispensaries are popping up all over the country. To stand out and be successful, it is essential reach potential customers.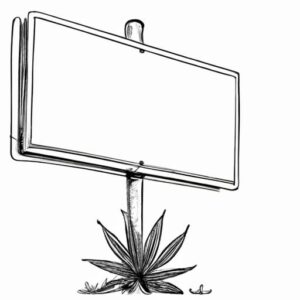 One of the most effective and cost-efficient ways to do this is to utilize signage, billboards and other forms of out-of-home (OOH) advertising to reach their target audiences.
By utilizing outdoor advertising, such as billboards, sandwich boards, bus stop advertisements, and even car wraps — cannabis dispensaries can effectively reach a large and diverse audience. These signs should be designed to grab the attention of passersby with eye-catching images and creative messaging.
In-store signage is also essential for cannabis dispensaries. Window displays, point-of-sale displays, and other signs should be used to create an inviting atmosphere and to draw customers into the store. The key is to ensure that the branding and messaging displayed on these signs are consistent with the dispensary's overall look and feel.
Keep in mind: it's important to be aware of state and local regulations on cannabis advertising when designing signage and billboards. Many states have strict rules about how cannabis products can be advertised, so it's important to do your research and make sure you comply with all laws and regulations.
Tip: Look for advertising companies that have experience in cannabis signage in your area to leverage their existing expertise such as Outfront Media or the Street Media Group.
Loyalty Programs
One great way to market your dispensary is by implementing a loyalty program. Loyalty programs are an excellent way to reward your customers for their patronage and encourage them to come back.
There are a few different ways to start a program, such as through a loyalty app, your POS system, or an old-fashioned punch card system. Whichever one you choose, make sure it's easy for your customers to use and understand.
Once you've implemented your loyalty program, it's time to start promoting it. Email campaigns, in-store signage, and training your staff are all great ways to get the word out about your loyalty program.
Finally, don't forget to offer incentives to encourage participation. Discounts, free products, and swag are all great ways to reward loyal customers and get them excited about your loyalty program.
Print and Broadcast Media
Radio & TV Advertising: Until recently, cannabis businesses in the United States were not permitted to advertise on television or radio, but in July 2022, the House of Representatives enacted a new bill allowing just that. The measure still needs to pass the Senate and be signed by the president, but we may see dispensary advertisements on these traditional forms of media as early as 2023.
Event Marketing
Events are an effective way to market your dispensary, build relationships with customers, and network with other business owners.
Sponsoring and Hosting Industry Events: Consider sponsoring trade exhibits and conferences in your area, as well as larger events such as cannabis-themed music festivals. This will help to raise your industry visibility and allow customers to interact with your dispensary in person.
Try sponsoring educational workshops, product launches, and other events that educate or entertain. This will not only help to attract new customers, but it will also reflect your dedication to providing high-quality products and services.
How to Utilize Events as a Marketing Opportunity: When it comes to marketing your dispensary, events can be a fantastic resource. Increase awareness of your dispensary and attract new clients by publicizing the event on social media and in your local community.
Attendees' email addresses and other contact information can also be collected and utilized to send out promotional offers and create relationships with customers.
Leveraging Customer Feedback from Events: Additionally, events are an excellent way to gather client feedback and find ways to improve your dispensary. Conduct surveys and interviews with guests to learn about their thoughts on your products, services, and overall customer experience. This input can then be used to develop your dispensary and improve your customers' satisfaction.
Partnering with local businesses
Networking & partnering with local businesses can offer numerous benefits, from gaining access to a larger customer base to creating an increased sense of community. Here are a few tips for partnering with local businesses to market your cannabis dispensary:
Start by identifying potential partners that may be a good fit for your cannabis dispensary. Think about other retailers, service providers, and businesses that cater to the same demographic as your dispensary. Some ideas for potential partners include local headshops, music shops, craft breweries, coffee shops, gyms, alternative medicine providers, and delivery services.
Once you've identified potential partners, it's time to begin negotiating mutually beneficial partnerships. Consider cross-promotion opportunities, referral programs, and other ways that you can work together to reach a larger audience.
After you've established partnerships with local businesses, it's important to promote them to your customers. Some ideas include: in-store signage, social media posts, email campaigns, and other methods to let your customers know about the partnerships.
By networking & partnering with local businesses, you can create a more successful marketing strategy for your cannabis dispensary, help to increase your reach and build a stronger customer base.
Online Marketing Methods
When it comes to marketing cannabis dispensaries online, there are several methods to consider. From optimizing your website for local SEO to utilizing influencer partnerships, here are four online marketing strategies to consider for your dispensary.
Online Search Engine Optimization (SEO)
SEO is one of the most important digital marketing tactics for any dispensary. Utilizing local SEO tactics is essential to get noticed in your local area (e.g. claiming and optimizing google local business listings, using location-specific keywords).
Additionally, optimizing website content with relevant keywords and formatting for readability can help increase your chances of appearing higher in search engine rankings.
Finally, building high-quality backlinks (e.g. through guest blogging, and partnerships with other websites) is a great way to increase your visibility online. Approach the networking contacts you've made locally and see if they would be willing to do a link exchange.
Email marketing
Having an email list is an essential tool for any cannabis dispensary. Building an email list can be done through sign-up forms on the website or in-store sign-ups.
Once you have an email list, you can craft email campaigns such as newsletters and promotional offers.
Additionally, segmenting the email list by location or purchase history can help you target your audience more effectively.
Social Media & Influencer Marketing
Setting up social media accounts (e.g. Facebook, Instagram, Twitter) is a great way to reach a larger audience and interact directly with potential customers.
However, be aware that the major social media companies have strict policies about cannabis, so it's important to familiarize yourself with the guidelines before setting up your accounts. Having a content strategy & schedule (e.g. posting regular updates, and interacting with followers) can help ensure that you're engaging with your audience regularly.
Influencer marketing can be an effective way to reach a larger audience and build your brand. Identifying influencers in your local cannabis industry (e.g. bloggers, and social media personalities) and partnering with them to promote the dispensary is a great way to get more eyes on your business.
Paid Online Advertising Options
Unfortunately, the most common types of paid advertising (Google & Facebook ads) aren't available to cannabis dispensaries. But, you still have a few options for paid advertising online.
You might be able to buy advertising privately from individual local websites.
Display advertising networks like Mantis allow for you to buy advertising on related websites. Unless you sell your products directly online, this probably isn't a great method of advertising a dispensary, but if you are in a major metropolitan area it might be worth a try.
See our full guide to online advertising for cannabis business owners.
Important Tips and Next Steps
Create a marketing plan, this will focus your energies. A simple checklist of to-dos with a timeline will suffice.
Even though it's a marijuana business, you should still understand and implement best practices applicable to marketing any business: consistent branding, understanding your target audience, and tracking results.
Conclusion
From event promotion to search engine optimization, there are many techniques for attracting customers and increasing sales. The most important online method is to claim your Google Business listing, this will make sure you appear in Google Search and Google maps — and it's free.
To stay on the right side of the law, understand the unique legislation and restrictions in your state and city, then devise a strategy and monitor the results to determine which marketing channels are most effective for your business.