We've collected interesting and useful statistics and resources for business research purposes.
Consumption Statistics
Canadians spent $5.7 Billion on marijuana in 2017 –  Source: Statistics Canada

Compared to

Alcohol $22 billion
Tobacco products $16 billion

5 million Canadians spent money on marijuana in 2017

The average consumer spends  $1,200 a year on marijuana
90% of Canadian marijuana consumption estimated to be illegal
Marijuana Expenditure in Canada 1960 – 2017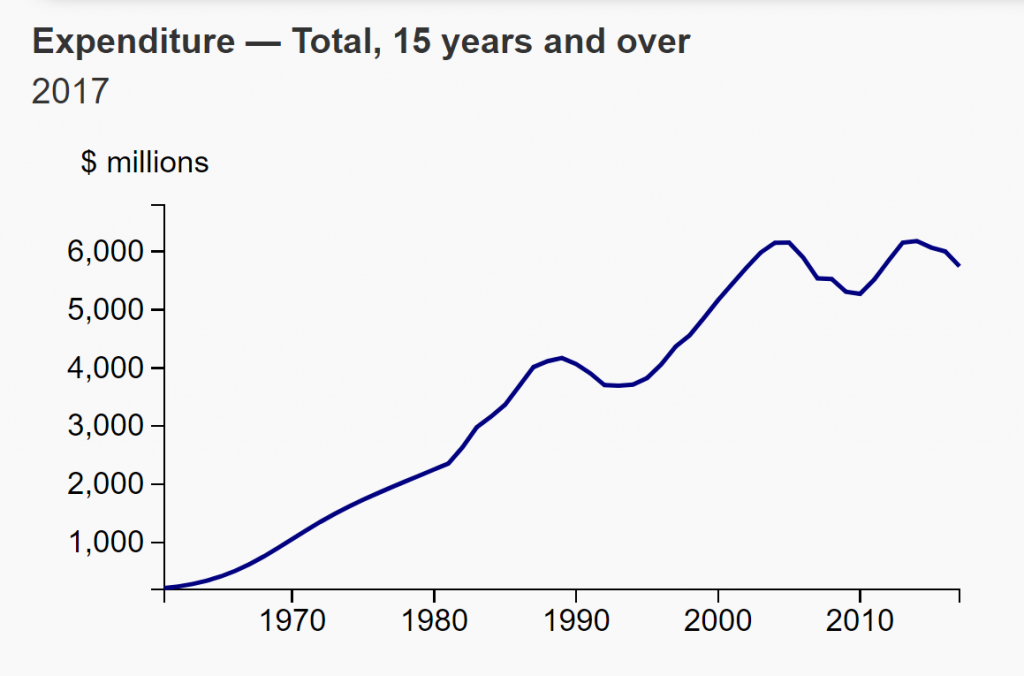 Production Statistics
The marijuana industry is now bigger than Canada's beer or tobacco industries.
Canada Produced about $3.4 billion worth of cannabis in 2014

Compared to $2.9 billion in the brewing industry
$1 billion in tobacco products

Canada exported $1.2 billion worth of illegal cannabis in 2017
Pricing Statistics
Statistics Canada calculated that the price of marijuana has, on average, increased by about 3.3 percent per year since 1967.
The price for a gram of cannabis peaked at $12 in 1989, and has declined by an average of 1.7 percent per year since, because of oversupply.
In 2017, the price is estimated to be $7.50 a gram.
Canada is cheaper than the USA, but more expensive than Uruguay. – source
Recommended Research Links
Cannabis Stats Hub from StatsCan – Statistics Canada tracks and publishes historical and modern trends in both legal and black market of marijuana.
WeedWiki – tracks prices mostly across the USA, but starting to track in Canada
Bookmark this page, as we'll be keeping it updated with new stats as we find them.
Have an interesting link or stat? Please comment below.