We've collected interesting and useful cannabis statistics (with sources) and resources for business and market research purposes. This year, we've created graphs and charts to help better visualize key statistics.
General Statistics & Facts
Marijuana is the most widely cultivated, trafficked and used "illicit" drug. (source: WHO)
About 150 million people, 2.5+% of the world population, consume cannabis at least once per year, compared with just 0.2% consuming cocaine and 0.2% consuming opiates. (source: WHO)
About 50% of all drug seizures worldwide are cannabis seizures. (source: WHO)

In late 2018, Mexico's supreme court ruled the prohibition of unconstitutional. However cannabis in general, is still illegal in Mexico. (sources: WayofLeaf, Wikipedia)
Worldwide legal cannabis industry revenue is forecasted to reach $46.8 billion in 2025, growing at a 21.2% CAGR 2019-2025 (source: Arcview)
Where is Weed Legal? – And where might it be legalized next? Find out in our regularly updated guide.
CBD and Hemp Industry Stats
How Big is the CBD Market? Retail sales in the US surpassed 1 billion dollars in 2019, and some are forecasting that number to increase 10-fold to over 10 billion by 2024.
CBD consumer usage by age range – According to a 2019 Consumer Reports survey of 4000 people:
40% of people ages 18-29
32% of people ages 30-44
23% of people ages 45-59 … have tried CBD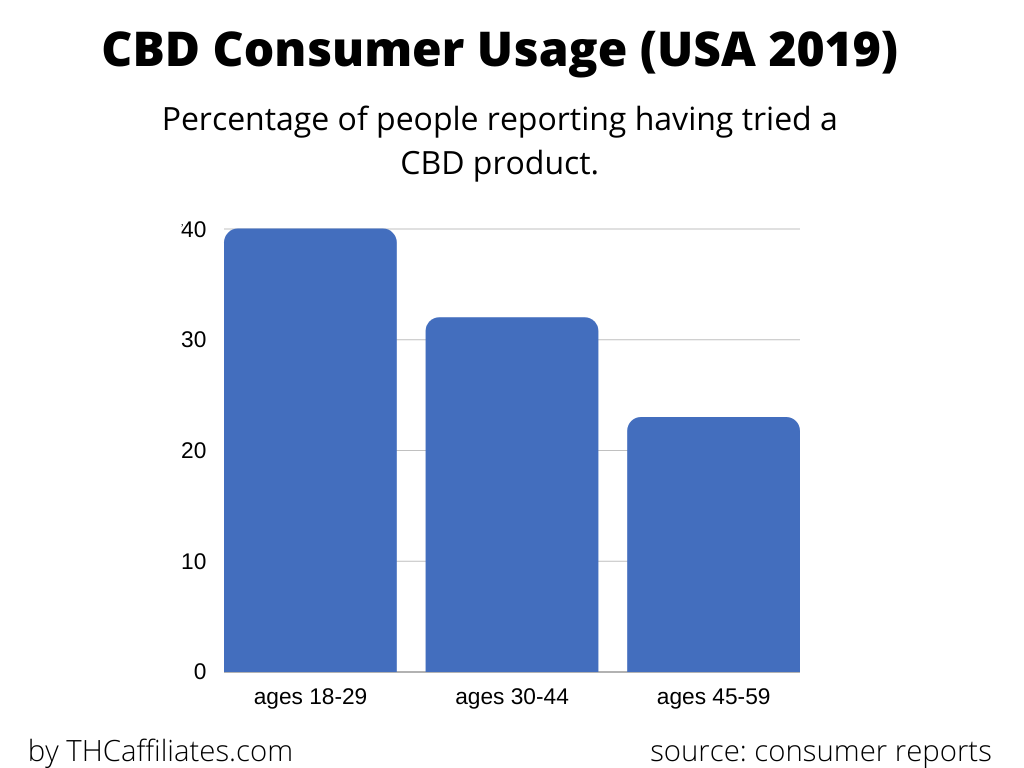 Hemp Crop Usage
According to the FSA's 2019 Crop Acreage Report. US Farm hemp production was processed into:
77% – cannabinoid (CBD) extraction, 18% – seed and grain, 5% – hemp seed oil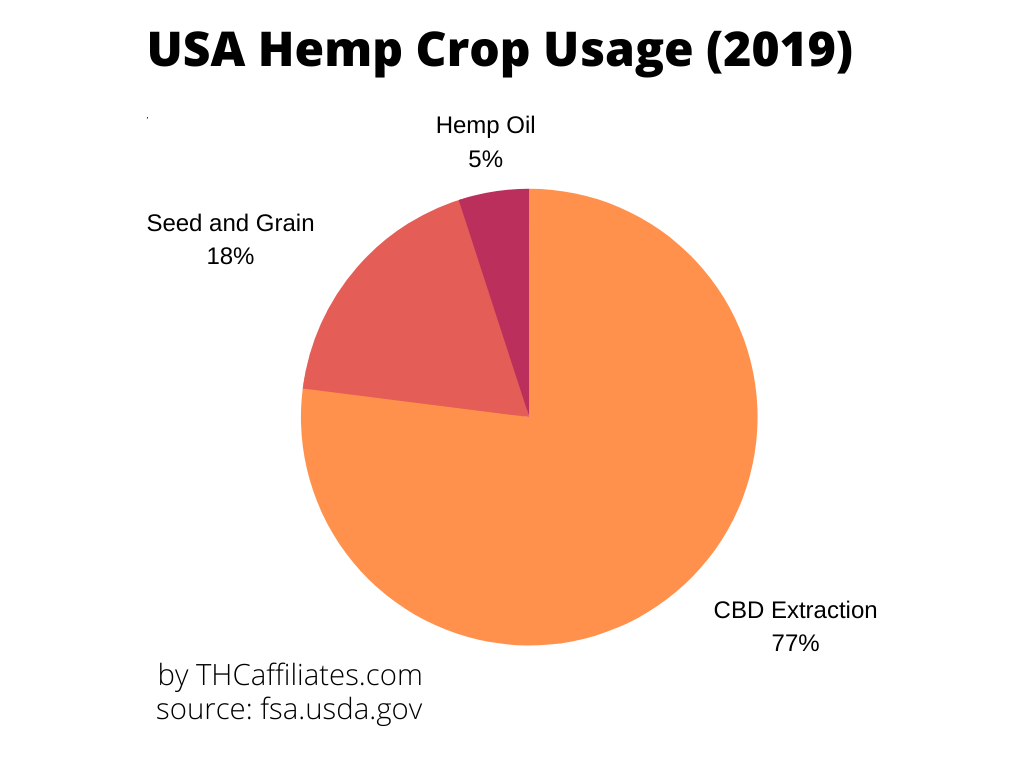 Cannabis Retail Sales Statistics
Stats Canada hasn't been publishing data as readily in the past, but did finally do their first major update since Covid began with a full breakdown of retail sales stats in April 2020.
Cannabis Retail Sales – Flower, Extracts or Edibles? According to Health Canada, the latest retail sales (April 2020) show dried cannabis flower is still the most purchased type of product, but extracts & edibles are climbing as well.
Dried Cannabis (flower) 73% of total sales
Cannabis extracts 14% of total sales
Edible cannabis 12% of total sales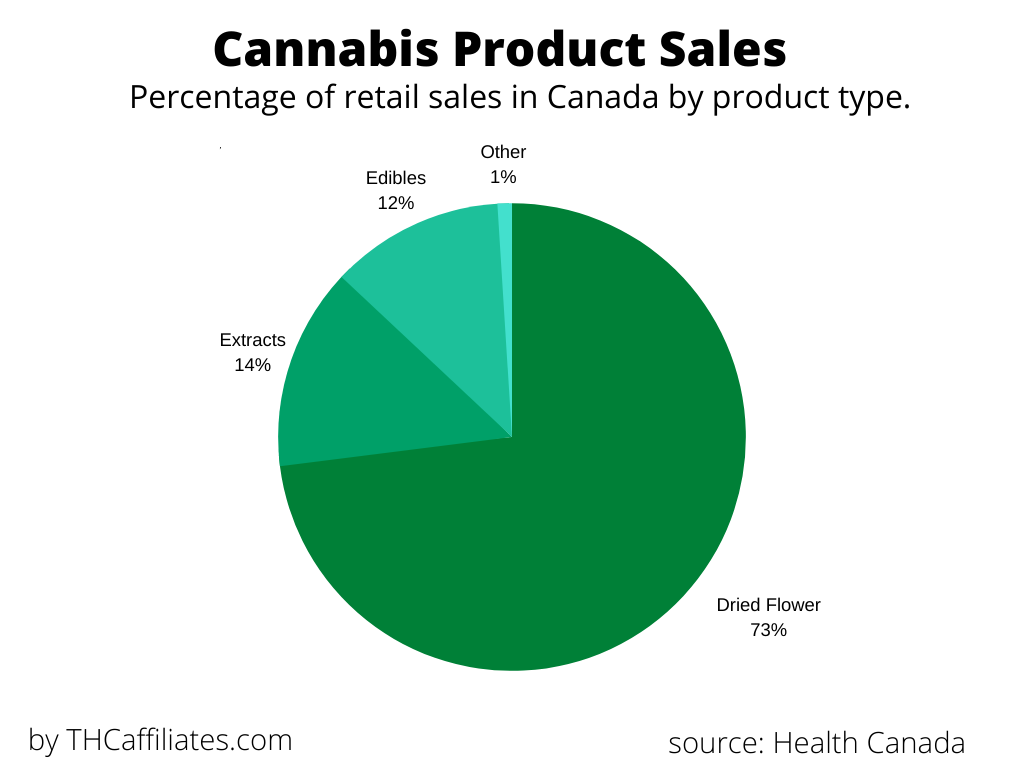 Historical Data Archive
The following statistics are here for archival purposes, and for easily doing year on year comparisons.
Canadian Consumption Statistics – Historical
Canadians spent $5.7 Billion on marijuana in 2017 – Source: Statistics Canada

Compared to

Alcohol $22 billion
Tobacco products $16 billion

5 million Canadians spent money on marijuana in 2017

The average consumer spends $1,200 a year on marijuana

90% of Canadian marijuana consumption estimated to be illegal
Canada Production Statistics – Historical
The marijuana industry is now bigger than Canada's beer or tobacco industries.
Canada Produced about $3.4 billion worth of cannabis in 2014

Compared to $2.9 billion in the brewing industry
$1 billion in tobacco products

Canada exported $1.2 billion worth of illegal cannabis in 2017
Pricing Statistics – Historical
Statistics Canada calculated that the price of marijuana has, on average, increased by about 3.3 percent per year since 1967.
The price for a gram of cannabis peaked at $12 in 1989, and has declined by an average of 1.7 percent per year since, because of oversupply.
In 2017, the price is estimated to be $7.50 a gram.
Canada is cheaper than the USA, but more expensive than Uruguay. – source
Recommended Research Links
Bookmark this page, as we'll be keeping it updated with new stats as we find them.
Have an interesting link or stat? Please comment below.
Free re-use of these graphs and chart images: Feel free to post these images on your own site or social media. Please link back to this site to give credit if possible, thanks!