In Canada, the price of legal marijuana ranges from about $7-$15 CDN dollars a gram, and $25-$50 CDN dollars per 1/8 ounce (3.5 grams) depending on the type and location. Though in late 2020, "budget" ounces are now available for around $100 CDN in the legal market.
In the United States, there is more variation in prices because individual states regulate marijuana, rather than nationally* — the price of an eighth (1/8 of an ounce) ranges from $30-$65 dollars.
In Uruguay, the only other country besides Canada to have nationally legalized recreational use of marijuana (in 2013), the cost of marijuana is $1 gram, which is about $3.50 for an eighth of an ounce.
Here's a chart:
| | | |
| --- | --- | --- |
| Country | Gram Price Avg.* | 1/8 Oz Price Avg* |
| The United States** | $13 | $40 |
| Canada | $8 | $30 |
| Uruguay | $1*** | $3.50 |
*Prices converted to USD
**Cannabis is still illegal on a national level in The United States
***Price set by Uruguay government, but supply is an issue — so $3, and an eight around $10 might be more accurate on secondary market.
Wikileaf and Priceonomics put together some interesting stats regarding legal marijuana prices in the United States: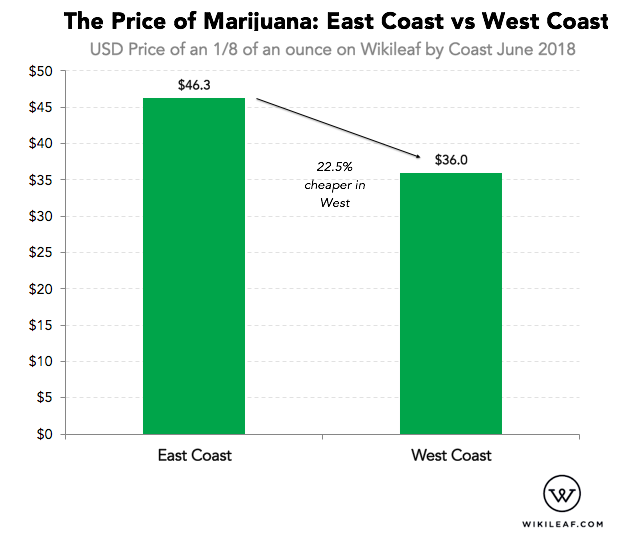 Interesting Price Stats and Facts:
Cannabis costs about 30% less in Canada than in the USA. – Source: Priceonomics/WikiLeaf
Marijuana costs almost 50% more in San Francisco compared to Portland, Oregon. – Source: WikiLeaf
In Canada, the current and historic price of marijuana is tracked by StatsCan, worth having a look at their data.
Japan is the most expensive place to buy Marijuana illegally. Source: Cannabis Price Index
Online weed sales sold out on the first day of legalization in Canada in many places.
Outlook on 2021 Weed Prices
Update Dec 2020 – In Canada, newer, cheaper products have been introduced into the legal markets with ounces as low as $100 CDN. These "budget" cannabis brands are rapidly gaining popularity.
How much does cannabis cost where you live? Please leave a comment and let us know!
Further Reading and Resources:
Where is the World is Cannabis Legal? -Learn which countries have legalized and decriminalized and which countries have the strongest penalties against cannabis.