I've been involved in affiliate marketing for over 20 years, both on my own personal projects (like this site) and as a manager of large affiliate based websites that earned millions of dollars a year.
This makes me:
feel old
very skeptical of paid affiliate marketing courses
I often get asked by friends and relatives about my experience of making a living online, and when I tell them about affiliate marketing — people will ask me about various courses they see advertised online.
I've created this page as a crash-course introduction to how affiliate marketing works, and how to get started while avoiding common scams.
Affiliate Marketing Explained
Affiliate marketing is simple: when someone signs up to be an affiliate, they get special links that they can share with their friends, website visitors, or social media followers.
When someone clicks on one of these links and buys something from the website, the affiliate gets a small commission. This commission is usually a percentage of the purchase price.
Examples of Affiliate Marketing
I think it's much easier to show real-world examples of how affiliate marketing works vs generic guides. Here are a variety of examples of affiliate marketing in the wild.
Let's say….
You're a website design agency, creating websites for local clients like restaurants, hotels and real estate agencies. You give your clients a web page of pre-requisites to work with you that includes domain names & website hosting options — these are affiliate links. You get paid by the domain name and website hosting companies for referring your potential clients to their services.
Or…
You've created a popular social media account for your dog. You could include affiliate links to online pet stores that have affiliate deals. For example, on a post about your dog, you include links to the toys, food, or other accessories people might see in your photos. This let's you capitalize on your audience without having to hard sell.
Or…
You are an amateur photographer, and you offer your photos free for commercial use through your own website. But, you also include links to higher-resolution stock photo agencies for folks who need bigger / more professional photos. The links you include to Shutterstock, Getty, etc are affiliate links. So when a website visitor purchases a subscription from one of these companies, you get paid a percentage of that subscription cost.
Or…
You have a very niche hobby, like foraging for mushrooms in the pacific north west. You have a blog and various social media accounts that have a small but loyal following. You could include affiliate links to books (through Amazon.com) or accessories like GPS units, clothing, knives, baskets, etc that would be of interest to your followers in your blogs. When someone in your audience clicks these links and makes a purchase — you get a commission.
Or, how this website uses affiliates marketing:
On this website, rather than trying to sell things directly to consumers, I promote the affiliate programs themselves. When someone signs up as an affiliate and earns a commission I earn a fraction of that. This is called two-tier affiliate marketing, aka super-affiliates.
The above examples are just a sample of the sort of opportunities available in affiliate marketing.
Affiliate Marketing Requirements
Here's the pre-requisites to get started as an affiliate marketer. The minimum requirements you'll need to get started as an affiliate:
content – a website or social media accounts
audience – people who visit your website, social media followers, or email list
affiliate partnerships – with merchants who will pay you to refer customers to them
Those are the basic requirements. #1 and #2 are a bit of art and science. Sometimes content + audience take a lot of time and effort, and sometimes people "go viral" (get popular) without much effort or on accident.
Most companies offering affiliate programs (such as Amazon) require you to already have content and an audience that they will review before letting you join their program, though some brands are more liberal and will let anyone join.
Affiliate Marketing Scams
Important: I suggest avoiding buying any "system" or online course in affiliate or digital marketing — especially when you are a beginner. First, you should learn the basics, give it a try, and then you'll have a better BS-sniffer for understanding affiliate marketing.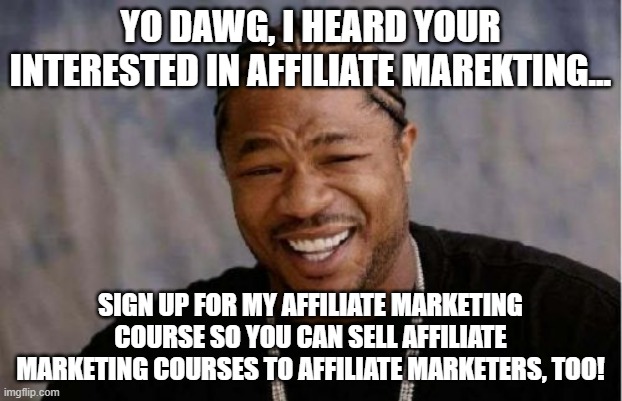 Scams are all too common in the world of affiliate marketing, and they can be costly if you're not careful. Here are some tips to help you avoid common affiliate scams:
Be wary of programs that promise high commissions or guaranteed success. If it sounds too good to be true, it probably is.
Avoid programs that don't provide clear information about the product or service being sold.
Avoid programs that require an investment; these are pyramid schemes, not affiliate programs.
Be very wary of any online courses that promise to teach you affiliate marketing, they are generally expensive, provide little value, and are mostly pyramid scams.
As a beginner, stick to large reputable networks like Amazon Associates or Shareasale to find affiliate programs & products to promote.
By following these tips, you can help ensure that you don't fall victim to common affiliate marketing scams. Remember, if something looks too good to be true, it probably is!
Bottom Line & Next Steps
Most important: Don't get sucked into "selling funnels" or buying expensive courses that promise to teach you to make millions as an affiliate marketer.
However, if you already have an audience (websites, social media or email lists) then simply choosing & promoting great offers to your existing audience can be a huge boost to revenue.
Where to find affiliate programs to join? While Amazon Associates is the largest affiliate program, there are many others that generally pay much better. I suggest looking at affiliate networks first.
Affiliate networks act as a bridge between merchants and affiliates, handle the tracking of sales and commissions and consolidate payments. Joining the biggest affiliate networks like Shareasale, Impact and CJ will give you access to 1000s of affiliate programs.
Appendix: Affiliate Glossary and Acronyms
Funnels, bounce rate, CPC, CTR… WTF mate?
Confused by any of the terms you've seen when trying to figure out how affiliate marketing works? Here's a list of the most commonly used terms you'll see and the better you understand them, the more likely your success as an affiliate.
AOV: Average order value (the average amount of money spent per transaction on a website)
A/B testing: A method of testing two versions of a website or marketing campaign to determine which performs better.
Bounce rate: The percentage of visitors to a website who leave after viewing only one page. A high bounce rate may indicate that the website is not effectively retaining visitors.
CPA: Cost per action (also known as pay per action or PPA)
CPC: Cost per click
CPL: Cost per lead
CPM: Cost per thousand (referring to the cost per thousand impressions of an advertisement)
CRM: Customer relationship management (a system used to manage customer interactions and data throughout the customer lifecycle)
CTR: Click-through rate (percentage of users who click on a particular link)
Conversion rate: The percentage of visitors to a website who take a desired action (such as making a purchase, filling out a form, or signing up for a newsletter).
EPC: Earnings per click (a measure of the profitability of an affiliate marketing campaign)
Funnel: A series of steps that a visitor to a website goes through in order to complete a specific goal (such as making a purchase). The conversion rate at each step of the funnel can be measured to identify areas for improvement.
KPI: Key performance indicator (a measurable value that demonstrates how well a company is achieving its goals)
Lead: A potential customer who has shown interest in a company's products or services by taking some action (such as filling out a form or signing up for a newsletter).
Lead generation: The process of attracting and acquiring leads through various marketing efforts.
LTV: Lifetime value (the total amount of money a customer is expected to spend on a company's products or services over the course of their lifetime)
PPC: Pay per click.
PPS: Pay per sale. CPA, CPS are synonyms.
ROI: Return on investment (a measure of the profitability of an investment, calculated by dividing the return on the investment by the cost of the investment)
SEO: Search engine optimization (improving the ranking of a website on search engines like Google)
Upsell: The practice of selling a higher-priced or upgraded version of a product or service to an existing customer.
Further Reading
Tools & Software for Affiliate Marketers – My list of tools and services used to build and manage affiliate websites including SEO, hosting and more.