Need cannabis photos for your projects? Once hard to source, now there are plenty of free and paid options for hemp and marijuana stock photos licensed for commercial use.
This page covers them all and includes examples from these sources. Keep reading to learn more or use the table of contents to jump to a specific section.
Free Stock Photos of Cannabis
These are the websites with the largest collections of free stock photos, illustrations and icons related to cannabis and hemp.
Pexels
Pexels: All photos on the site are licensed under the Creative Commons Zero (CC0) license, which means you can use them for any purpose, including commercial use, without attribution.
Pexels provides a range of free stock photos, including cannabis and CBD images. At the time of writing, Pexels had over 4k free stock images related to cannabis, hemp and CBD.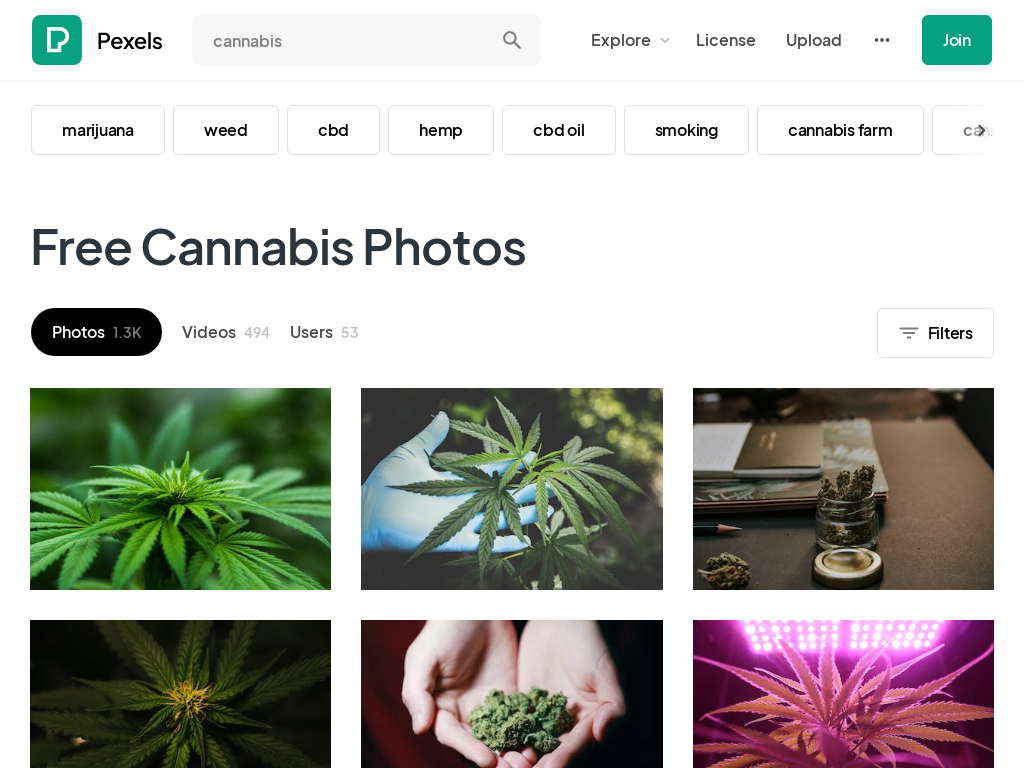 Unsplash
Unsplash: Offers a large selection of free, high-quality stock photos, including thousands of cannabis and CBD related images. All of the photos on Unsplash are licensed under the Creative Commons Zero (CC0) license.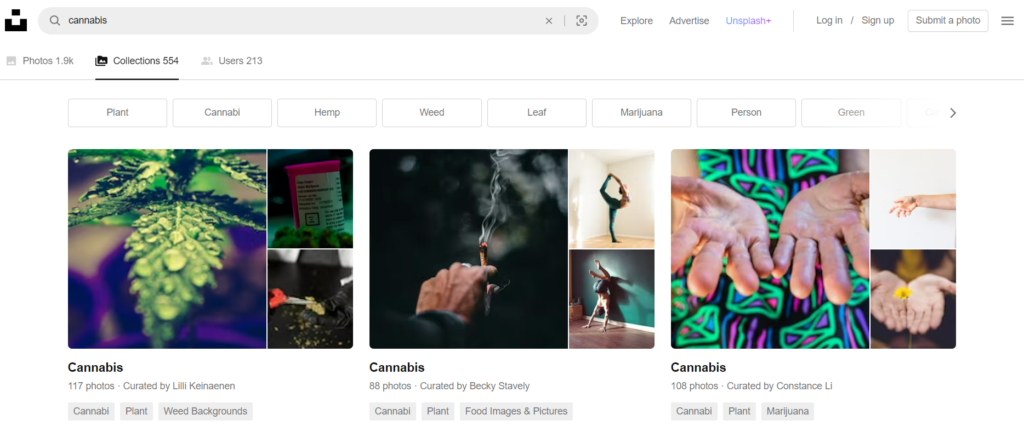 Pixabay
Pixabay: Free stock photos and illustrations. You'll find more illustrations and icons on Pixelbay vs the other sources featured in this list. Images on Pixabay are licensed under the Creative Commons Zero (CC0) license, which means you can use them for any purpose.
Freepik
Freepik: Free vector illustrations and stock photos, including cannabis images. Many of the photos on the site are licensed under the Creative Commons Zero (CC0) license, but some images require attribution or a paid license, so be sure to check the terms of use for each image before using it.
Please note: while the above websites offer free stock photos, they may have specific rules about how the images can be used. Be sure to read the terms of use for each website and each image to ensure that you are using the images accordingly.
Paid Stock Photos of Cannabis
While free photos work for most people, if you need higher quality and unique images then these professional stock photo websites might be a better fit. Plus, you get a license so you know you're using them legally. And there's usually much more to choose from, including images you won't find on free sites.
Your options for stock agencies with plenty of cannabis images include:
Shutterstock: Offers a wide range of images, vectors, video, templates and other design elements. Over 300,000 cannabis related images. Pricing starts at $29/month for 10 credits.
iStock: Photos, vectors, and illustrations including over 150,000 cannabis images. Pricing is similar to shutterstock, starting at $29/mo for 10 credits.
Adobe Stock: Giant database of stock images, graphics, videos and illustrations. Searching for "cannabis" gives over 2 million results. Pricing comparable to other stock agencies.
Getty Images: Over 20,000 hi-resolution stock photos of cannabis. More expensive than other stock photos, but a good option if you need large images suitable for print material.
Keep in mind that many of these websites require a subscription or the purchase of credits to download images. Be sure to read the terms of use for the website you choose to make sure you are using the images in accordance with their rules.
Other Options for Cannabis Images
Although the above sources of free and paid stock photos are what most people are probably looking for, I personally use a few unique sources for my own websites.
Canva – Canva is an online photo editor and design suite that has replaced Adobe Photoshop for me in recent years. It's very affordable and offers a giant cannabis-related stock photo, icon, design & even video library included with their subscriptions. There's a free version, too.
Nightcafe – This is an AI tool I've been using for a while to generate images. Mostly, I find it fun, but I've also used it to successfully create images for my website including this one. If you join, you can find me here on Nightcafe.
There are lots of AI photo creating options (Midjourney, Craiyon, etc) but I like Nightcafe the best because the web-based tool is super easy to use.
Keep in mind that some of these tools may require a subscription or the purchase of credits to use. Be sure to read the terms of use for each tool to understand how you can use the generated images.
Conclusion and Further Resources
Bottom line: If you run cannabis-based websites or design for cannabis companies, the above resources will get you started for images & design elements.
Pexels is my top recommendation for free images, but Canva is a great option if you have a small budget to work with, and AI image generators are an interesting option to try, too.
Please comment below if you have another source you think should be included on this page, and also check out some of the other great resources I've put together like this list of cannabis-friendly advertising networks and my introduction to understanding how affiliate marketing works.